Chef Teryi Youngblood Musolf buttons the placket of her chef's coat, smooths the fabric, and picks up a wine glass. She's ready to announce the first course: smoked ham and potato croquettes with a natural Syrah from the Willamette Valley. The diners at the table look up, faces expectant and glowing in the candlelight. As the waitstaff move from place to place, filling glasses and setting plates in front of guests, Teryi takes a sip and begins to speak.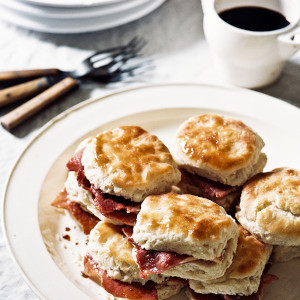 This could be any fine dining room. But it's not in a restaurant. It's a room in a bookstore. Camilla Kitchen opened in 2020, a pandemic baby, serving drinks and snacks to the customers of M. Judson Booksellers in downtown Greenville, South Carolina. The lattes are named for literary characters and works (the Golden Ticket has no Oompa Loompas, but it does have chocolate and hazelnut), and the baked goods nod to favorite cookbooks and authors (see the cookies that salute M.F.K. Fisher below). At the heart of the place is Chef Teryi.
After cementing herself as a mainstay of Greenville's culinary scene for more than two decades, Teryi exchanged the kitchen for the corporate world. It didn't take much for the bookstore's founders, June Wilcox and Ashley Warlick, to coax her back. "The moment I stepped in here, I realized how much it was a part of me," the chef says. "To cook in a bookstore? What could be better?"
Teryi wipes a tear away with the back of her hand, and picks up a whisk to finish whipping egg whites for a cake. It's a gift for the chef at an oyster restaurant across the street. "I've known him for years," she explains. "He told me yesterday he had a hankering for pound cake, so I'm making him one real quick." Chefs around town call Teryi "Mama." This is why.
"Between our love for cookbooks, food writing, eating, and wine, food stories will always be an essential component at M. Judson," reads the store's manifesto. "We believe good stuff happens around an intentional table."
Soon after the store opened in 2015, the owners pushed the freshly painted shelves of books aside to make room for a long table down the middle of the room. They set out vintage china and organized a menu inspired by the guest of honor: the great Pat Conroy. They trusted only one person to cook for such a night: Mama Teryi. With that, they anointed the first Sit Down Supper—a tradition that has gone on to honor the words and flavors of the Lee Brothers, Denise Kiernan, John T. Edge, and Kardea Brown.
When Teryi plans a Sit Down Supper these days, the words come first. "I go to the book and pull ideas from the pages," she says. "I pull inspiration from the art itself. Art inspires other art. First the words, then the food."
I'm back in the kitchen with Teryi while she's baking because we're planning another Sit Down Supper, this one for my own new book, the third in a cookbook series called A Place Here. As she folds beaten egg whites into cake batter, we chat about the menu. Would curried sweet potato wedges go with the slow-roasted pork and fennel? Should we bake my mom's homemade bread? It's a little out of body, speaking with the chef of my own event about recipes so close to my heart. But at this moment, I'm not talking to the chef de cuisine of so many restaurants, the 2016 Chef Ambassador of South Carolina; I'm just talking with another food person, sharing memories and ideas.
It just so happens that good food does what good books can do: peel back layers of self, and build connections and community. It's close to miraculous, something out of nothing. If I drew a Venn diagram of creating a community, I'd put books on one side and food on the other. I'd place Camilla Kitchen right in the cozy connected middle.


Up Next for Camilla Kitchen:
At her last restaurant, stressed and worn thin from the demands of a Friday prep schedule gone awry, Teryi grabbed a co-worker and snuck across the street for a midday margarita. "Runaway Friday" became a tradition, and Teryi brought it to Camilla Kitchen. Every other Friday in the bookstore's fourth-floor Gallery, Teryi prepares a three-course lunch paired with wines selected by local distributor Mission Grape. "I send everyone home with dessert though, because nobody is gonna have any room to eat after three courses and all that wine."
The next Sit Down Supper, called A Place Here, takes place on November 10 and draws inspiration from the artwork of Kent Ambler and Karen Schipper, with essays and recipes by me.


P.S.
"These vegan cookies," Teryi says, "are inspired by the great M.F.K. Fisher, who once wrote to a friend, 'My gingersnaps are just the Joy of Cooking gingersnaps, with three times the ginger.'" M. Judson buyer Ashley Warlick's 2016 novel, The Arrangement, highlights Fisher's turbulent (and spicy) love life. These cookies are now a café favorite.