Decades before Spotify, a pair of music producers founded Folkways Records with the slightly ambitious goal of recording every sound in the world. The label, later acquired by the Smithsonian, marks its seventy-fifth anniversary this year, and continues the quest.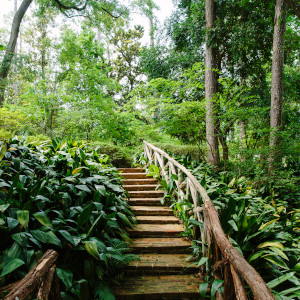 Folkways has featured the protest songs of Pete Seeger and the soulful swing of Mary Lou Williams. This year, it shared new releases from singers like No-No Boy, whose folk songs explore the complexities of Asian-American life. On November 3, the label will also reprise the cult-favorite Sounds of North American Frogs, available on vinyl for the first time since 1958. The album found new fans in the 1990s when college radio stations began to feature a frog call of the day, curator Jeff Place says. "It was always a popular seller, you know, for that kind of record."
The late herpetologist Charles M. Bogert made the recordings, which feature fifty-seven species of frogs and toads. Among the ninety-some sounds are tracks titled "The Southern Toad (Bufo Terrestris)," "A Large Breeding Chorus of Florida Gopher Frogs (Rana Capito)," "Scream of the Southern Leopard Frog (Rana Utricularia)," and "The 'Territoriality Call' of the Southern Race of the Green Frog."
"In a time when frog and toad populations are in rapid decline," Folkways explains in the liner notes, "this recording reminds us of the remarkable diversity and beautiful sounds we are in danger of losing."
Since 1948, Folkways has released more than 2,200 albums featuring music from every state, and much of the world. Place says one region stands out. "The South is definitely the strongest area for sure." North Carolina, he notes, offers more than a dozen types of music from coastal maritime shanties to Appalachian mountain melodies. There's also Texas Tejano, Alabama shape note singing, and Mississippi Delta blues, to name a few other favorites.
The Smithsonian recently introduced a $5 a month Friends of Folkways subscription, allowing listeners to stream the entire catalog, and the curious can always download the label's literary album liner notes without charge. On Sunday, October 22, an all-day (7 a.m. to 7 p.m. eastern) celebration of the seventy-fifth anniversary will stream on the music platform and radio station NTS.