Nostalgia is easy to source from a decade when the Goonies found pirate treasure, Billy Joel ruled the airwaves, Diana Spencer became the People's Princess, and design stylings could best be described as zany: Stark minimalism—white floors, glass surfaces—with outrageous accents. Lime green geometric carpets and big red wall clocks. Pee-wee's Playhouse.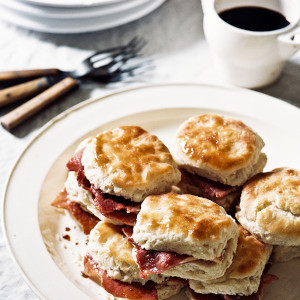 Hungry Eyes is betting on the appeal of this bygone, big-shoulder-padded era. The New Orleans restaurant and bar opens this week, with interiors and an atmosphere dedicated to the 1980s. 
"We will not be serving food from the eighties, to be clear," says co-owner Mason Hereford, who opened his first restaurant in the city, Turkey and the Wolf, in 2016 to national acclaim; Bon Appetit named the sandwich shop in the Irish Channel "Restaurant of the Year," and Instagram exploded with photos of caloric creations like the Collard Green Melt (double-decker braised greens, tart coleslaw, and a lava flow of Swiss). A few years later, Hereford opened a successful all-day breakfast joint, Molly's Rise and Shine, where meals arrive on plastic cafeteria trays and old lunch boxes decorate the shelves.
Hungry Eyes is a 4:00 p.m. to 10:00 p.m. dinner venture, but "it's still a chance to be really playful," Hereford says. "We are calling it 'luxury drinking food.'"
Chef Phil Cenac's menu will feature a "Chip of the Day" snack as well as composed, medium-size share plates, including Salt & Pepper Celery Root, featuring Szechuan peppercorns, jalapeño, and crispy rice noodles, or the head-on Gulf shrimp surrounded by crispy potatoes and floating in an addictive tartar sauce.
Cosmopolitans and espresso martinis are expected to be the top bar calls—so much so that bar director Carlos Quinonez (Saffron, the Columns hotel) put them on tap. The wine program comes courtesy of Lahzie Takada, formerly of Faubourg Wines, with Hereford's wife, Lauren Agudo, handling operations.
Agudo was instrumental in much of the design, too. Behind the big Lucite console serving as a hostess stand, a bold swath of hot pink decorates a thick-framed circular mirror. The mirror was picked up at an estate sale, and the team worked with local company Big Sexy Neon to create the undulation of pink light.
"I had the name Hungry Eyes before anything," Hereford says, laughing. "But I don't think we knew how eighties this design would end up being."
As you snack and sip, you just might ponder watching a few reruns of Saved by the Bell before bed thanks to black-and-white tile accents, modular lounge chairs in primary colors, and marble panther statues.
"On day one of planning our design, we watched Dirty Dancing and Beetlejuice. I think that really gives a Beetlejuice moment," Hereford says, pointing to the nose of a small aircraft, refurbished as the front-window light fixture. Framed art pieces include a few 1980s nail-salon illustrations of pale women with sharp red lips by Patrick Nagel. "Addicted to Love" by Robert Palmer is certain to be on the stereo.
Inside, there's seating for fifty, while out back, the plant-filled patio can accommodate thirty.
"When we opened Turkey and the Wolf, we had all been working in fancier restaurants with higher-end food. We decided to apply some of what we'd learned to a casual spot—let's cook our asses off, but do it at a lower price-point with fewer rules," Hereford recalls. "You might say Hungry Eyes is us taking seven-plus years of casual food experience and reapplying that knowledge to a higher-end space. But we will always be really playful. That's just our default."