Corn is, of course, the defining ingredient in bourbon whiskey. The rest of the recipe typically consists of a small amount of malted barley and either rye or wheat as a flavoring grain, both of which make their own distinct contributions to the finished bourbon. "The easiest way to think of it is the difference between wheat bread and rye bread," says Harlen Wheatley, master distiller with Buffalo Trace. "With wheat, you get that mild, mellow character."
Buffalo Trace uses soft red winter wheat in its wheated mash bill, including in the coveted Van Winkle and Weller lines. Other well-known examples of wheated bourbons include Maker's Mark and Heaven Hill's Old Fitzgerald. Where rye quickly asserts itself with a peppery punch, wheat tends to take more time, complementing the wood's influence as the whiskey ages to soften rough edges and develop sweeter, more subtle flavors.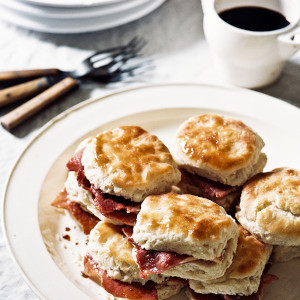 "There are only six classes of wheat, but there are thousands of different varieties," Wheatley says. "It's the number one grain for foods and for spirits, and there are a lot of things that we haven't explored. We're starting to look at some of those varieties to see how they affect the whiskey as it ages. There's no end to it."
While rye continues to rule as the most common flavoring grain in modern bourbon, more and more distilleries are exploring wheat's potential. From a value wheated bourbon to a honey-infused, cognac-finished sipper from Texas, here are five new examples to try.


Daniel Weller Emmer Wheat
Buffalo Trace created its new Daniel Weller line, named after the grandfather of William Larue Weller, to showcase some of the results of the distillery's ongoing experiments with wheat. The first edition, released in June, includes Emmer wheat, a strain cultivated for thousands of years and primarily used in bread and beer. The bourbon is aged for nearly twelve years and bottled at 94 proof. Wheatley compares it favorably to W.L. Weller 12-Year, with a slightly bolder profile and an underlying sweetness that balances the wood tannins and spice. "We probably could have aged it for twenty years," he says, "but we felt that it was pretty good at twelve."
---
Green River Kentucky Straight Wheated Bourbon
When Green River Distilling Co. expanded its distribution from four states to twenty-five earlier this year—bolstered by its acquisition by Bardstown Bourbon Co.—the distillery marked the milestone by adding a wheated bourbon to its lineup (as well as a full-proof, single-barrel bourbon for good measure). Bottled at 90 proof and available year-round, Green River wheated bourbon offers an excellent value at less than $40. It also presents a classic wheated profile, with notes of stone fruit and honey mingled with buttermilk biscuit and a hint of baking spice.
---
Forbidden Single Barrel Bourbon Whiskey
To dream up her perfect bourbon, distiller Marianne Eaves chose white corn and white winter wheat as her base ingredients. For the new Forbidden, she then employed a low-temperature fermentation technique to help coax maximum flavor and preserve the grains' delicate nuances. The result is a well-balanced bourbon that entices with aromas of crème brulee and hazelnut and tastes more mature than its five years of aging suggests, with a lively interplay of Honey Bun and spice atop a pleasant, faint must reminiscent of an old rickhouse.
---
Maker's Mark Wood Finishing Series: BEP
Maker's Mark has remained remarkably consistent since its founding in 1953. The brand exclusively uses a strain of soft red winter wheat in its mash bill, and its bourbon still enters into barrels at 110 proof (the maximum entry proof for bourbon whiskey was raised to 125 proof in 1962). This spring, the distillery released BEP, the final installment in its limited-edition Wood Finishing Series. The release is designed to highlight the fuller flavors developed through a lower barrel entry proof (BEP), and the interplay between grain and wood. The bourbon is finished with the addition of ten new toasted American oak staves and bottled at cask strength. The added staves amplify notes of vanilla bean, spice, and soft tannins for a sip that's rich and creamy with a signature balanced sweetness.
---
Garrison Brothers Lady Bird
All of Garrison Brothers' bourbon employs soft red winter wheat grown in close proximity to its distillery in Hye, Texas. This spring, the distillery debuted a new limited-edition release honoring Texas native "Lady Bird" Johnson. Master distiller Donnis Todd began by selecting barrels of Garrison Brothers' bourbon exhibiting notes of honey and added wildflower honey–infused oak cubes for an additional several months of aging. The bourbon then spent another three years in French cognac casks before being bottled at 114 proof. The additional finish complements the whiskey's layered sweetness with even more complexity and a rich depth. A portion of profits also benefits the University of Texas' Lady Bird Johnson Wildflower Center.