Martha Foose—the longtime Southern pastry chef celebrated for three cookbooks, including the James Beard Award–winning Screen Doors and Sweet Tea, and for her addictive, G&G-approved bacon crackers—felt no urge to decamp from her native Mississippi Delta. After all, she was born in Yazoo City, opened her first bakery in Oxford in 1995, and more recently served as the executive chef of the Viking Cooking School in Greenwood. That's about as Delta as it gets.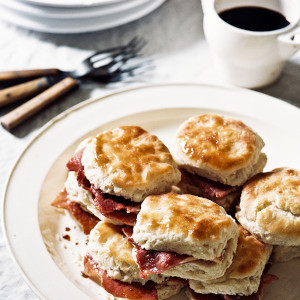 Still, friend and restaurateur Robert St. John kept touting Hattiesburg, the college town tucked into the state's Pine Belt almost as far south as its coastal bootheel. It's there that he operates Crescent City Grill, the Midtowner, Tabella, and Ed's Burger Joint—and has always wanted to open a French bakery.
"All those pine trees make me nervous," Foose admits. They also make her sneeze when the pollen count is high.
It was a culinary trip to Tuscany with St. John's family, along with Foose's husband, bread baker Donald Bender, that finally did the trick. "We talked and talked about the opportunity in Hattiesburg, so decided to make the jump," Foose says. "Now I've really fallen for the place."
The resulting collaboration, set to open in the coming weeks, is dubbed Loblolly after the species of pine likely responsible for Foose's sinus irritation. (The clever logo is a tree-trunk cross section styled to evoke a pie with a piece removed.) Located in a former downtown credit union on Hardy Street, adjacent to the University of Southern Mississippi, the space has been remade with big murals, bright orange booths, and windows peering into twin kitchens—one for Foose's pastries and one for Bender's breads. "It's great because Donald doesn't like things that are sticky, sweet, or colorful," Foose laughs. "People are more familiar with my work from the cookbooks, but I'm excited that Loblolly also will give more exposure to his breads. Customers will go berserk."
After a dozen years away from operating a retail bakery, Foose is reacclimating to work hours that start at 4 a.m. Even so, she's excited to source milk, honey, mushrooms, berries, and peaches from local producers, and to offer pastries she developed during the cookbook years to actual customers. There will be French-meets-Southern twists such as butter-pecan eclairs and Napoleons with persimmon custard. There will be sugar-lump biscuits, an amazing-sounding treat that involves buttermilk dough and lemon-soaked sugar cubes. There also will be fancy coffee, bagels, cheese straws, granola, quiche, Scottish shortbreads, and empanadas. "We'll have a little bit of something from everywhere," Foose says. "We're a humanist bakery—if it's yummy, we don't need to pigeonhole it." (She generously shared the recipes for her milk and honey cake and blueberry muffins with G&G.)
That ethos nicely matches another aspect of opening a bakery that Foose is eagerly anticipating. "Our customers know so much more about food now than a couple of decades ago," she says. "They no longer ask why ciabatta bread isn't soft. People's palates have grown so much more sophisticated and curious."