A native Texan, Ashleigh Fleming grew up on Frito pie. She got her first taste of the chili-topped casserole at age four while terrorizing the kitchen of the Tex-Mex restaurant where her father worked. Today, the dish serves as a comforting reminder of her origins—especially its salty, crunchy corn-chip base. As executive chef and managing director of Blue Jay Bistro and Daphne's Coffee Shop in Littleton, North Carolina, Fleming pays homage to her roots in part through her generous use of Fritos, which she pairs with the seasonal bounty of local farmers and purveyors.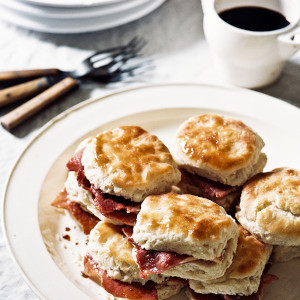 "Fritos are such an underrated ingredient," Fleming says. "There's nothing that tastes like them. There's a distinct corn flavor that lends itself to a lot of different applications."
The versatile Texas-based snack got its start in 1932, when C.E. Doolin purchased a recipe from a San Antonio café. He began making the fried ("frieto" in Spanish), masa-based chips in his mother's kitchen and selling them from his Model T Ford. As years passed, sales grew and companies merged. Today, Fritos is owned by PepsiCo and calls Plano, Texas, home.
Fleming says she appreciates Fritos' earthiness and subtle sweetness when they're crumbled atop shrimp tortilla soup. It's the salt that gets her attention when she uses them to scoop caviar-topped onion dip. Fleming also likes Fritos flavors such as Chili Cheese and Honey BBQ—the latter she grinds and layers in tamales. Last fall at Blue Jay Bistro, she topped braised short rib and carrot adobo puree with Chili Cheese Frito Gremolata, providing "the perfect balance of flavor."
"We use them in the restaurant a lot," she says. "Not a week goes by that I don't have a taste of Fritos." But it's not just the patrons who reap the benefits. Fleming makes Frito pie for the Blue Jay staff regularly.