Born and raised in Hawaii, chef Troy Guard—founder of TAG Restaurant Group in Houston and Denver—went most of his life without trying okra. In 2015, he and his wife were traveling through Texas when they stopped at a barbecue joint for a quick meal. There, an accompaniment of Talk O' Texas hot okra pickles opened a whole new world of flavors and textures. "The taste, the crunch, the snap, the vinegar, the heat—it's just different," Guard says. "We were hooked."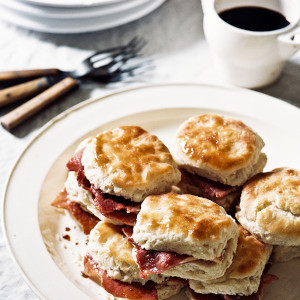 The Talk O' Texas brand dates to 1950, when locals Dick and Mitzi Grimes were experimenting in their San Angelo, Texas, kitchen and realized they were onto something. They made their first major sale to Neiman Marcus (of all places!), then moved to Oklahoma and sold the operation to Al Ricci, whose children run it today. The company still hand-places okra into every jar.
For his part, Guard deploys Talk O' Texas hot okra as an accoutrement to cured meats at Guard and Grace Houston, his glass-enclosed steakhouse. In more casual settings, he chops it into a zesty pico de gallo with onion, cilantro, and tomato and pairs it with scrambled eggs, nachos, or cheese and crackers. He incorporates the okra into a spread—along with mayonnaise, chipotle, scallion, and lime—and if he's short on time, he'll simply snag a piece and eat it alongside a burger or sandwich instead of a pickle spear. "It keeps the sandwiches from being boring," he says.
Perhaps most cleverly, he uses the okra's juice to brine chicken, pork, and even a shrimp cocktail. Not hungry? Add the juice to a Michelada for an extra punch.
"It's like our very own Southern giardiniera," Guard says. "Just talking about it makes my mouth water."