The keys to good barbecue are temperature, timing, and tenderness—that was the takeaway from a recent "BBQ 101" class with Rodney Scott and Bryan Furman at the Family Reunion celebration in Middleburg, Virginia, on August 18. The third-annual gathering at Middleburg's Salamander Resort brought together some of the top Black chefs, bakers, vintners, and pitmasters in the country to showcase their skills. Furman and Scott, both native South Carolinians, fall into the last category.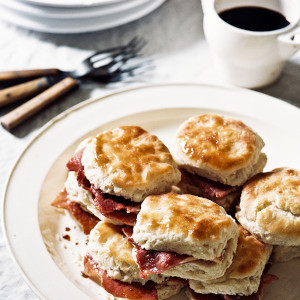 The night before the class, they proved their pit prowess at a welcome cookout. Scott, owner of Rodney Scott's Whole Hog BBQ in Alabama, Georgia, and South Carolina, served up sweet and savory ribs, a mustard-forward potato salad, and a refreshing cucumber and tomato salad. Furman, who will open Bryan Furman BBQ in Atlanta later this year, prepared juicy chicken tossed in his signature peach barbecue sauce, gooey macaroni and cheese, and meaty collard greens.
The next day, about three dozen people gathered under a small tent on a muggy afternoon to hear from these two kings of the grill about everything from how to cut ribs to fire prevention. And of course to sample Scott's barbecue turkey and Furman's grilled jerk vegetables and barbecue chicken. I also chatted with both of them afterward to recap the finer points of "BBQ 101."
So before you get out the charcoals at your next cookout, here are six tips from two of the best:


Try an alternative to lighter fluid. Scott recommends using leftover bacon fat from your kitchen or something called stick burners, which are braided-together pieces of wood, to get the grill or smoker going. Such natural methods eliminate the possibility of chemicals getting into food. "A chimney starter is a good investment," he adds.


Choose the right wood. If you want to cook over wood, the two agree on using a sweet, hard wood that doesn't have a lot of sap. Oak, cherry, apple, pecan, and hickory are all good options, but save the pinewood for bonfires.


Watch your heat. When it comes to poultry, the primary reason a piece of meat dries out is that the heat is too high. Furman recommends grilling chicken skin-side down and not directly on the fire to maintain moisture. "If you stick your temperature gauge in the chicken and it's 162 degrees on the breast and 177 degrees on the thigh, then you're good, because once off the heat it will go up another three to five degrees. I would face my thigh toward the heat because it's thicker and takes more time to cook," he says. "The more the heat is hitting the thigh, the quicker it'll jump up to 180 degrees."



Let vegetables steam. Furman recommends wrapping seasoned veggies in aluminum foil and placing them directly over the flame, or cooking them away from the flame for about thirty minutes and then directly over the flame for ten to fifteen minutes more to get the desired char marks. Scott's method for bell peppers is to place them on the grill until they have char marks, then place them in paper or a Ziploc bag so they can soften and keep their natural sweetness.


Be resourceful. Both Furman and Scott specialize in whole-hog barbecue, so they use every part of the pig—and any other meat that touches the grill. At the Family Reunion, Furman used a chef's oxtail fat to make cracklin'. If you're brave enough to cook a whole hog, Furman recommends using hog heads, membranes, and other fatty parts for South Carolina hash and rice. He also said the average person can cut the tips on spare ribs instead of purchasing St. Louis–style ribs to save about $1.50 a pound.


Take your time with the sauce. Scott says one of the pitfalls of sauce is that people try to hurry the process and overthink ingredients. (At the Family Reunion, he paired a tangy white sauce with turkey.) "You have to experiment with sauce before it's time to serve. I take it slow. I remember that vinegar is going to be my base and I go slowly to make it better."