The brain-numbing chill of an actual movie theater (and let's be frank, most Southern restaurants) sounds pretty appealing right about now, but the streaming services are pulling out the stops in July for those who'd prefer the cool dark of their living rooms. So grab a popsicle from the fridge and let's get down to business.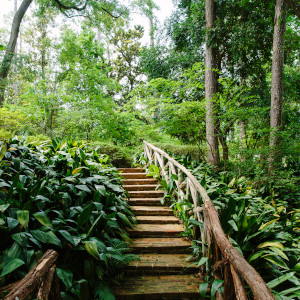 Serenity Now
Sweet Magnolias, Netflix
Do my eyebrows skyrocket at the elaborate drawls on Sweet Magnolias, a series about three best friends based on the novels of the same name by the Virginia-born Sherryl Woods? Yes. Do I, a former Atlanta resident, so clearly recognize that the show films in Covington, Georgia, that I forget it's supposed to take place in the fictional Serenity, South Carolina? Also yes. Did I binge both pimento-cheesy seasons as soon as they dropped and bookmark months ago the news that season three comes out on July 20? God help me, yes. Don't act like you didn't.
---
Taking a Bite out of NOLA
Renfield, Peacock
Nicolas Cage's affection for New Orleans is no dark secret. He once owned the sinister LaLaurie Mansion there, and has already selected his final resting place in St. Louis Cemetery No. 1. Appropriately, his latest stint in the city was to film the horror comedy Renfield, now streaming on Peacock, in which he plays a very demanding Dark One, aka Dracula, whose familiar Renfield (played by the fabulous Nicholas Hoult) is fed up with getting fed on. Cage shared more about his experience returning to NOLA with G&G here.
---
Raylan Redux
Justified: City Primeval, FX and Hulu
One of the greatest Southern-set series ever, Justified, gets resurrected for another go-round in this limited series that debuts July 18. Fifteen years after moving on from Kentucky, U.S. Marshal Raylan Givens (Timothy Olyphant) has settled in Miami to raise his daughter—that is, until he gets called up to Detroit to take on a sociopath known as the Oklahoma Wildman, played by the Bluegrass native Boyd Holbrook.
---
Blockbuster Summer
PBS has nabbed an all-star lineup of Southern writers, musicians, and actors to open up about their creative processes for this three-part series that begins July 18. We're talking Billy Bob Thornton, Jason Isbell and Amanda Shires, Lyle Lovett, Jericho Brown, Natasha Trethewey, Angie Thomas, Jesmyn Ward, G&G contributor David Joy, and more.
---
Desperately Seeking (Who Killed) Susan
Stephenville, Apple Podcasts, Spotify, et al.
I'll be listening to this one on my trip back to Charleston after the Fourth: True crime headquarters Texas Monthly just began releasing episodes for Stephenville, a podcast hosted by the best-selling author and Lone Star native Bryan Burrough, who also wrote a feature on the topic for the magazine's July issue. So what IS the topic? The truth of who killed Susan Woods, who was found dead in her Stephenville, Texas, home in 1987, a mystery that "went cold for nearly two decades," until "the newly discovered diary of the killer himself" came to light. Yes, please.