Apple cider and pumpkin pie may embody the flavors of fall, but so do cheddar-bacon beignets, pickle ice cream, and the cornucopia of regional fare you can taste at fall festivals across the South. Countless local parks and Main Streets take advantage of mild temperatures to host culinary celebrations, but here are a few of our favorites.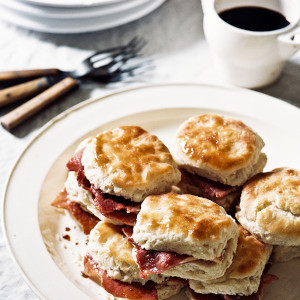 September 29–October 1, Pensacola, Florida
Enjoy Lowcountry boil, crawfish, scallops, lobster rolls, jambalaya, and more straight-from-the-Gulf dishes prepared by top chefs and doled out from tents, food trucks, and restaurant pop-ups. If you prefer more turf and less surf, there's also carnival fare like corn dogs and turkey legs. Held in the city's Seville, Fountain, and Bartram Parks, the rain-or-shine festival offers free admission.
---
September 14–17, Grapevine, Texas
Head on over to aptly named Grapevine to take part in the largest wine festival in the Southwest. The long-running event celebrates wines from all over the world but takes particular pride in those made in Texas, the fifth-largest wine-producing state in the country. Sip on nine rosé offerings under the new Rosé Gazebo or a flute of bubbly on the Champagne Terrace. Participate in the charcuterie board workshop or learn how to make your own organic candles at Texas Wine and Wicks (while sipping, of course). General admission tickets are $10 per person and $5 for children and seniors, with complimentary entry all day Thursday and until 5 p.m. on Friday.
---
September 29–30, Irmo, South Carolina
What started as a fundraiser for a local library is now a decades-long tradition that draws more than twenty-five thousand attendees per year. The fun kicks off on Friday with live music, rides, and freshly cooked food like gyros, barbecue, and (of course) fried okra. The strut begins Saturday at 9 a.m., when festivalgoers take over St. Andrews Road in the biggest and longest-running parade in South Carolina. Afterward, the Irmo Community Park hosts more rides, food, and music, including the Spin Doctors. Admission is free, though rides and food are not.
---
Blue Ridge Blues and BBQ Festival
September 14–16, Blue Ridge, Georgia
The main event, during which local and regional vendors show off their barbecue skills, is held Saturday at the Fannin County Courthouse, but the kickoff party starts Thursday at Trackside Station with a happy hour. Friday brings a blues-themed train ride and block party with food and drinks catered by Angel Fire 7 BBQ. The festival raises money for community and children's organizations such as Snack in a Backpack and Habitat for Humanity. Tickets for Friday's train ride and block party are $85–$90, and Saturday's tickets are $10 for adults (kids are free).
---
September 21–24, London, Kentucky
If you're not a fan of chicken, you may want to steer clear of London, Kentucky, on September 21. The World Chicken Festival celebrates over three decades of tradition and local hero Colonel Harland Sanders of Kentucky Fried Chicken. Attendees can enter a Colonel Sanders look-alike contest, test their poultry proficiency with chicken trivia, or peek at the world's largest stainless-steel skillet, coming in at more than ten feet long and seven hundred pounds. Held in downtown London, the event also serves up chicken dumplings, tacos, gyros, and loaded fries.
---
September 23, Summerville, South Carolina
There may be no better place to celebrate sweet tea than the town in which it was born. Summerville's historic downtown transforms into a street fair complete with food trucks, artisan vendors, music stages, and a family zone. Guests can sample different kinds of tea and vote for their favorite version of the classic Southern drink, then try cocktail renditions at various spots around town in the Hold My Tea Bar Crawl.
---
September 23, New Orleans
An iconic Louisiana treat has its own day at the New Orleans City Park Festival Grounds. Try unique takes on the classic treat such as peanut butter and jelly, praline, and candied sweet potato, or snack on a savory beignet in flavors such as jerk chicken, Jamaican beef, spinach and artichoke, crawfish and corn, and cheddar bacon. Vendors will also be dishing out fried chicken, Parmesan truffle fries, and gumbo. Advance general admission tickets are $20 for adults (kids twelve and under are free), and proceeds from the festival support New Orleans programs that serve children with developmental delays.
---
September 23–24, Baltimore
The "world's largest pickle party" celebrates the crunchy snack in every sense. Fifteen hand-picked artisan pickle companies will offer samples, and guests can vote on their favorite to win Best in Show. There's also the Big Dill World Pickle Eating Championship and the Brine Chug Challenge, plus (of course) pickle shots. The food selection will include fried pickles, pickle pizza, pickle egg rolls, pickle fries, and (ahem) pickle ice cream, plus more traditional carnival treats when your palate needs a break from the brine. Tickets to the event, which takes place at Power Plant Live, range from $21.99 to $99.99.
---
October 4–8, Charlotte, North Carolina
Themed "Wild & Free 2023," the third-annual celebration of Black foodways will take place in Charlotte's Uptown and Historic West End neighborhoods. Events include a family-style feast with James Beard–nominated chefs Gregory Collier and Cleophus Hethington; the Make Food, Not War symposium; an all-female chef dinner; a tasting tent with wine and spirits; and the Love, Feast & Soul Gala. Tickets start at $100 for single events and $202 for multiple.
---
October 12–14, Floresville, Texas
To kick off a weekend dedicated to this classic Southern snack, a carnival opens Thursday night and runs through Saturday at midnight. Arts and food vendors follow on Friday, with offerings like gorditas, roasted corn, chicken on a stick, and of course a peanut booth. The Grand Parade commences Saturday morning, and there's also a kid zone, dancers, a hypnotist, and live music. Admission to the festival, which began in 1938 and centers on the town's Courthouse Square, is free.