For most of her life's suppers, Susan Gravely has pulled up a chair at tables in two places known for their hospitality—Italy and the American South. Gravely hails from Rocky Mount, North Carolina, and 2023 marks forty years that the company she cofounded with her family, Vietri, has splashed lovely Italian-made ceramics across tabletops around the world. She's broken bread with plenty of friends, including some stellar Italian home cooks, whose recipes and stories she shares generously, along with her own, in her personal new cookbook, Italy on a Plate.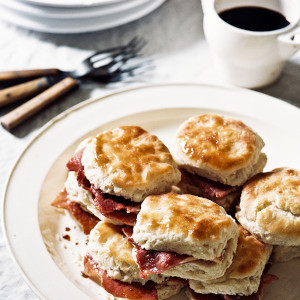 She broke the book down into sections among her Italian and Southern friends. Most notably, Frances Mayes—a fellow sometimes-North-Carolinian, the author of Under the Tuscan Sun, and a G&G contributor—wrote the foreword and shares a handful of recipes. We spoke with Gravely about how the book chronicles a lifetime of good eating and beautiful table settings, and she shared what she's learned from Italian and Southern hosts alike. The most important takeaway? Less stress, more fun.
You organized the book by friends who shared recipes with you. What has been the importance of friendship in your life and business?
In the small town where I grew up, there were thirty sets of parents who could scold you or praise you, or send you home, or give you lunch. Friendship was built in the freedom of exploring and being with lots of different people that you enjoyed doing things with. I grew up with neighborhood best friends, playing sports, being outside, and a menagerie of girls and boys that have remained important to me all my life.
In Italy, someone told me this and it always rings true: People are so warm and you feel connected to them, however it usually takes at least three encounters in your relationship for them to welcome you into their life. In Italy, someone inviting you to their home is a big thing. Many Italian families have lived in towns for generations, and they live simply. They eat together every lunch or every dinner if they are living in the same house, and they live with generations, so being invited into that world means you are part of their family and they consider you something special.
For me, because I grew up with a feeling that the world was small, I always thought that there were people I could identify with wherever I was. I was also not afraid to explore or ask questions. I was taught about respect, manners, kindness, thoughtfulness, and asking questions. Working in my industry, I've been committed to many of the same vendors and artisans for as long as possible, and by the time I was writing this book, I realized they were all friends. And our friendships are all tied up in food.
What hospitality tips have you learned in Italy?
Live in the moment. Italians I know don't worry so much, and they are naturally sensitive to their senses. Smell and sight and touch are all really important parts of their lives. So they mix ages and friends and experiences. They don't put a lot of emphasis on appetizers, but they will serve a nice bottle of wine or an Aperol spritz and just sit outside. If they haven't swept the outside, they don't care because that's nature. It's about getting together, enjoying each other, and keeping a sense of humor. We could stand to get a little looser.


Anything you think your Italian friends have learned from you about the South?
If there is one thing they cannot get over, it's squirrels. They are mesmerized by squirrels when they visit. There must not be squirrels in Italy? They also tell me they are taken by the warmth of Southerners. Several Italians come every year to our artisan events, and they are just amazed at how they return feeling more open about their emotions and feelings. I think we could all learn from one another, looking up at each other. Looking at the trees, the sky, the water, noticing what's in bloom.


How do you like to set a table?
I believe that the most beautiful table is an imperfect table. I've always loved things that are more casually elegant or a mix of sophisticated and casual. Use old things that have been in the family—it does not matter one bit if they have a chip. I always add some small votives, and flowers are key. You could pick dandelions from the woods or cut greens from trees. Magnolia leaves. There's nothing better than a lot of greenery and one color of flower. And I like to have a little sense of humor, something funny like my bug salt and pepper shakers or candlesticks that look like monkeys.
Just don't stress about it. Don't even stress about the meal. You can cook part and buy part. You could buy part and put fresh parsley on it or perk it up with a little Worcestershire or cream. The most important thing is getting people back together. There's too much sadness and there's too much loneliness. Let's just make it easy. Have people over and ask them to bring one thing, or pick a cookbook and everyone choose one easy thing to cook from it.
You shared three recipes with us—tell us a little about each.
The pan-fried dandelion is so Southern. We grew up eating turnip greens and mustard greens, and this recipe could use those too, as well as arugula or baby spinach. We cooked ours with ham hock and vinegar, and this recipe is similar but with an Italian point of view.
The scalloped oysters are a family recipe from my grandmother. My grandparents had a house at the coast, in Atlantic Beach. Scallops were something they all loved, and we made scalloped oysters with saltine crackers. It's a dressing and we would eat it with turkey or a leg of lamb or a big beef tenderloin. With the oyster liqueur, you decide on how much you want, how moist you want it to be. In the picture, you'll see my grandmother's casserole and her lace tablecloth.
The apple fritters are easy and they are delicious. Bill Ross, my husband, is from Raleigh, and he agrees they're so Southern. You just need crisp apples and all you're doing is lightly frying them with a teeny amount of sugar. You can't beat apple pie, and you can't beat apple fritters.