Blue Plate Mayonnaise is no stranger to Southern gatherings. Slathered on BLTs, folded into potato salad, and reached for across picnic tables and white tablecloths alike—it's been a pantry staple since it launched in Louisiana back in 1927. In late 2022, Blue Plate's parent company—Reily Foods Company—took those NOLA roots even deeper by opening Luzianne Café, a love letter to Blue Plate and its other stable of products, from coffee to hot sauces, next to its Warehouse District headquarters. 


From a front counter decorated with sepia-toned photos of Reily family members, the restaurant serves all-day breakfast and lunch. Original advertisements, hung as backlit posters, features the likes of one-time Luzianne Coffee and Chicory spokesperson Betty White framed in pink, beaming and holding two coffee cups.
The menu, of course, doesn't just feature Blue Plate as a condiment; the mayo gets revamped and reimagined in all manner of sauces, each produced on-site, adding a boost to Caesar dressing, classic remoulade, and more.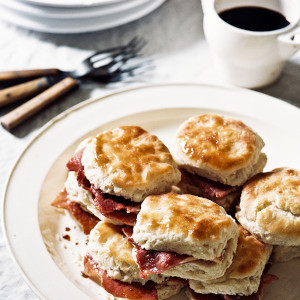 By 11:00 a.m. on a weekday, the place bustles with a range from construction workers to lawyers in suits. General manager Alfred LaNasa joins me as I sit at a communal table with a spicy fried chicken sandwich and a double-stack burger, a delightful mess that reminds me of a roadside, wax-paper-wrapped burger I used to get in the 1980s with my grandfather.
The former features a tart pop of vinegar from house-made pickles and soft, buttery challah buns. It's spicy, but not overly so. "We use a combination of our two hot sauces in that," LaNasa says, as I cut the monstrosity in half with a steak knife. "That sauce on the chicken is a mix of Try Me Cajun Sunshine and our Try Me Tiger Sauce, plus a little honey for sweetness. Then, on the side, we have our Blue Plate–based buttermilk dressing, for dipping."
The far corner of the factory space offers a petite market, where diners can pick up Reily products such as those aforementioned hot sauces, Blue Plate mayo, and the brand's Luzianne ground and whole-bean coffees. And while I wish they sold the buttermilk dressing (cough: by the gallon), Luzianne shares the recipe—which could also be used to dress up a crudité platter or replace the tartar sauce on a fried catfish plate—here.