Springtime might seem way past hearty stew season, but these cold snaps mean I've still been making my favorite chili, an old-school North Carolina version. Ever since I dog-eared the recipe in the recent re-release of the 1987 classic The Fearrington House Cookbook, I've cooked it nearly weekly through fall, winter, and now spring. If I'm still swatting mosquitoes and sweating over a bowl of this chili come summer, send help. Or better yet, come over and I'll convince you chili—topped with slices of cooling avocado and an extra squeeze of lime—is a classic summer dish.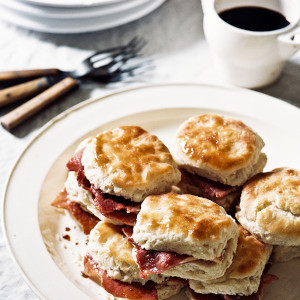 The brilliance of this recipe is in the technique: Rather than dumping everything in at once, you slowly add the liquid from a can of tomatoes, pulling tons of flavor out of the veggie base as it all simmers together. It's still easy as can be; just plop in a little extra juice when you stir it every once in a while on the stove.
Fearrington, a charming neighborhood, country inn, and restaurant near Chapel Hill, North Carolina, stands by its historic recipes even while its menu evolves seasonally (it's a Relais & Châteaux property, so food is a huge draw here). "The recipes, and the way the cookbook was written, make it timeless," says Theresa Chiettini, Fearrington House Inn's general manager.
"It's about hospitality and graciousness," adds Kelley Fitch, whose family still runs the property and whose late mother, Jenny Fitch, wrote the cookbook. During a recent visit to Fearrington, I thanked the family for this simple recipe, which has fed me, my partner, and pretty much every visiting friend for three seasons now. (Each visitor has asked me for this recipe.) Kelley shared the family-favorite recipe I plan to try next: "My favorite, hands down, is the squash casserole," she says. "I love it because it is dead simple and inexpensive to make, and it is really delicious." Just like the chili, which I'm making again tonight.
The original recipe note from Jenny Fitch reads: "This is a good recipe to double and freeze half for use another time. It is seasoned just right but is only moderately hot; to make it more so, simply increase the amounts of chili powder and cayenne." I suggest making the recipe exactly as written the first time, and then modifying on your next go-around. I now start the onions first to give them a little more caramelizing time before adding the ground beef. I also add an extra can of fire-roasted tomatoes, up the cayenne a titch, and buy the best local grass-fed beef I can find. One time, for vegetarian friends, I swapped in a plant-based ground "beef." It was still flavorful.