Kaiser Lakshari doesn't do subtle. One bite of his paratha-dilla at Himalaya in Houston and that much becomes clear. For the dish—an Indian riff on a quesadilla—crunchy, flaky paratha bread encases chopped paneer, creamy chile sauce, and a spiced lamb patty, all served with a side of pico de gallo. Textually, it's akin to a Taco Bell Crunchwrap, and to eat it is to have your brain synapses fire memories of kebabs, cheeseburgers, and loaded quesadillas all at once.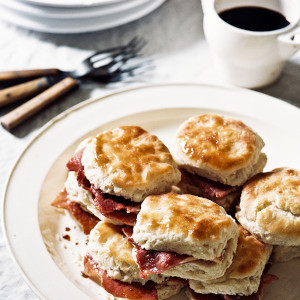 "When you say subtle flavor, it's like saying you're a little bit pregnant," says Lakshari, the chef and owner of Indian-Pakistani Himalaya. "Either something's sharp and robust, or there is no taste. I can't stand bland food. I don't eat bland food, and I certainly don't cook bland food."
In food and life, Lakshari has a rebellious streak. While living in his native Karachi, he dropped out of medical school, informing his parents that he wanted to pursue cooking professionally (the conversation didn't go well). Lakshari moved to Houston in 1980, attracted by the city's subtropical climate, and earned degrees at the University of Houston's Conrad N. Hilton College of Global Hospitality Leadership. He has dedicated himself to feeding his adopted city ever since.
In 2004, Lakshari and his wife, Azra, opened Himalaya in a shopping center in Houston's Little India neighborhood, and their dining room walls are lined with two decades worth of accolades, including a James Beard semifinalist nod and consistent rankings in the Houston Chronicle's Top 100 Restaurants list.
From the beginning, his menu stood out for featuring both Indian and Pakistani dishes. Lakshari's mother was Pakistani and his father Indian, so the comingling of cultures came naturally for the chef, despite the countries' religious and political differences. He also made an early decision to serve beef at Himalaya, a wedge issue for Hindus, who consider cows sacred, and Muslims (and Texans) who eat them. "When we opened this restaurant," Lakshari recalls, "I told my wife, 'I will respect everybody's wishes, but we cannot not have beef when Texas has the best in the country.'"
Tex-Mex fusion like the paratha-dilla arrived at Himalaya around 2015. It was then that Alvin Schulz, a local chef, and Eric Sandler, the food editor of CultureMap Houston, convinced Lakshari to add fried chicken to his menu. For his version, Lakshari removes all the skin and fat from the bird and marinates it in buttermilk, as a good Southerner does, plus ginger, garlic, cumin, coriander, and his house garam masala blend. He dredges the pieces in all-purpose and rice flours and fries them in pristine vegetable oil, resulting in a dish that's as light and crispy as it is succulent. "After frying four chickens, we discard the oil," he says. "It's an expensive process." But worth it.
Lakshari's HFC (Himalaya fried chicken) untethered his imagination, he says, and freed him to cook like a Houstonian, influenced by the flavors of one of America's most diverse cities. Masala brisket, masala chicken and dumplings, chicken schnitzel masala, tikka masala mac and cheese, crawfish masala etouffée, and masala shepherd's pie all followed.
His chicken hara masala combines tomatillos—an ingredient the chef first encountered in Texas—with green chiles, cilantro, yogurt, and garam masala to make an electric green curry sauce. The dish tastes unambiguously Indian, but if a few toasted pepitas fell into the pot, you might mistake it for a Yucatecan dish.
And therein lies the real magic of Himalaya, where every service is like Pentecost and even the most traditional Indian and Pakistani dishes speak to diners in their native tongues. A few years ago, a regular saw Cuban ropa vieja in Lakshari's resha gosht, a shredded beef curry, and diners in the know can now order a side of plantains to accompany the dish.
Himalaya's menu also tells diners that keema lucknowi—a stew of lean ground lamb, onions, ginger, garlic, spices, and, according to Lakshari, an "infinitesimally small" amount of tomatoes—"closely resembles Texas chili." Served with a side of steamed rice, the fragrant, just-spicy keema delivers me to my childhood table on a cool Southern night with a big bowl of my mom's chili.
Another entry, hunter's beef, is a rarity in America, and Lakshari modeled his recipe on the most famous version from Hanifia, a restaurant in Karachi. For the dish, which the chef describes as a Pakistani cross between pastrami and corned beef, Lakshari brines beef for ten to eleven days and then steams and bakes the meat. Shredded and served with spicy mustard sauce and sliced fresh tomatoes, it reads like lean Texas brisket minus the smoke. And with extra paratha on the table, Houstonians have been known to make ad-hoc hunter's beef tacos.
"It's truly universal," Lakshari says. "You can make sandwiches, omelets, tacos, casseroles, just about anything with it." With leftovers, he suggests crisping the beef up in a pan, poaching an egg, and topping a toasted English muffin with the rich combination. And while leftovers aren't the point of a meal at Himalaya, you won't regret ordering liberally, especially the next morning when you have a few pint containers of curry sauce or keema stacked in your refrigerator, or trying Laksari's HFC for yourself at home.