Even some diehard livermush fans concede that the name is less than totally appetizing. Perhaps the centuries-old comfort food—typically ground pork offal and cornmeal that is formed in a mold, then sliced and pan-fried for breakfast or lunch—could benefit from a rebranding as "awesome sausage" or "foothills pâté."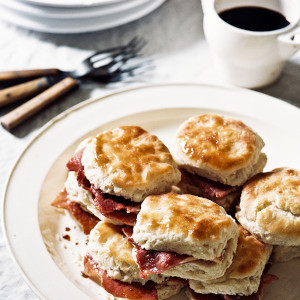 Then again, the people of Western North Carolina, where livermush has its deepest roots, seem perfectly content with the appellation. The towns of Marion and Shelby even devote annual festivals to the stuff, complete with livermush food trucks, livermush-eating contests, and a Little Miss Livermush pageant with sashes and everything. (The Marion fest is coming up on June 3.)
That regional pride is born from a sense of history. Livermush traces its humble origins to the German-derived dish pon hoss, which immigrants brought to Pennsylvania in the 1700s as a way to use and extend every last bit of a butchered hog. The preparation in that region, sometimes bound with buckwheat, came to be called scrapple (which tends to be a bit chunkier), while the variation that emerged from the foothills of Western North Carolina centered on fine-ground pork liver, hence the name. There's even a North Carolina law that livermush must contain 30 percent pork liver.
Steven Goff, chef of Asheville's highbrow-lowbrow Tastee Diner, counts himself among livermush's proponents, so much so that he's made a permanent place for it on his menu. "We do a lot of highly sustainable cooking here, and I love that mush represents hard times in Western North Carolina," says Goff, who first made the dish while working as a butcher in Raleigh. "As a kid I used to hop freight trains and was homeless, so when I began working in kitchens I was very aware of how much food gets thrown out."
Though Goff's foodie-luring version of livermush sources local meat and yellow grits and balances pork with beef, he stays true to the use-everything ethos by sometimes also tossing in the odd kitchen scrap, such as chicken skin. And while local custom often puts livermush on a biscuit with mustard, Tastee Diner serves the crispy-creamy final product on a bun with American cheese and an over-easy egg.
"Livermush fits in with our diner vibe. I have two servers who make it their challenge to sell livermush sandwiches, and it's surprisingly popular," Goff says. "It's not flying out the door, but we serve up several every day, and that's a win."