Depending on your age, you may recall the original rise of tiki culture in America, when colorful bars such as Don the Beachcomber, Bali Hai, and the Tonga Room opened from California to Florida in the thirties, forties, and fifties. These outposts offered barstool escapes to far-flung isles, celebrating the cultures of such destinations as Tonga, Hawaii, and Micronesia with tropical accents and big, bold rum drinks.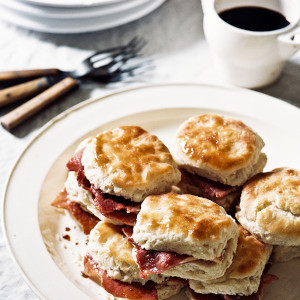 In May of this year, an ode to that heyday, the Daytrader Tiki Bar & Restaurant, popped up in Seaside, Florida, bringing a taste of Polynesia to the Panhandle. The Daytrader serves inventive twists on American classics (their Sloppy Koa, for instance, elevates the sloppy joe with pineapple slaw and pork belly on a Hawaiian bun) and a well-curated list of tiki cocktails featuring fresh coconut and lime, artisan rums, and vintage glassware. Interiors by designer Jeanette Carter—pink tiles, a textured reed roof, ample seafaring tchotchkes, and a beachside terrace—set the mood.
"When we decided to focus on Polynesia, it was important to me that we highlight all the islands that make up that region," says chef/owner Nikhil Abuvala, who also owns Roux 30a and Nanbu Noodle Bar, both in Santa Rosa Beach, as well as Nanbu Too, in Destin. "Of course, you'll find plenty of Hawaiian influences throughout our menu, but you'll also discover Filipino, Vietnamese, and other coastal Asian flavors in both the dishes and cocktail program. I am always heavily influenced by the never-ending supply of fresh seafood from the Gulf of Mexico, as well as the exceptional products we source from our regional farmers."
That includes boiled peanuts, a coastal rendition of which Abuvala presents tableside in a Spam can, a nod to the luncheon meat's beloved role in post–World War II Hawaiian cuisine. The chef's recipe includes clove and garlic, Japanese Togarashi spice, and fresh, thinly sliced ginger—if you love Cajun-style boiled peanuts, this spin gives the Southern classic a similar kick.
"When I was driving to Atlanta to pick out the plates for the Daytrader, I passed about six boiled peanut stands along the way," Abuvala recalls with a laugh. "I thought about how Asian-inspired boiled peanuts would be the perfect bar snack at this restaurant, and now here we are today."
The chef warns of one potential at-home pitfall. "It's important to make sure you wash your peanuts very, very well," he cautions. "There's nothing worse than a clump of dirt or a rock ending up in your finished snack. Also, in my opinion, these boiled peanuts taste better the next day. I recommend letting them sit in the juice overnight before enjoying."