Summer camp's freewheeling spirit lives on all year round at Campfire Grill in Flat Rock, North Carolina. Located less than an hour outside of Asheville, the restaurant pays homage to the region's many sleepaway camps through its woodsy aesthetic and vintage photos (provided by those same nearby camps). "Myself and many of our staff are all living in the area because we grew up coming here for summer camp," says Amelia Lindsey, who attended Camp Ton-A-Wandah as a youth and now co-owns the restaurant along with her husband, executive chef Kip Lindsey, and restaurateur Starr Teel. Campfire Grill's wood-fired fare, fortunately, is decidedly more elevated than the grub found in any mess hall.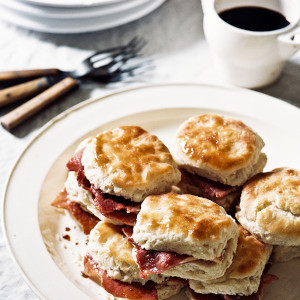 A smoker in the parking lot foretells the meal ahead—dishes like smoked chicken wings, locally caught trout and catfish, and molten spinach queso dip. The pièce de résistance, however, is the s'mores skillet. Conceived by Teel, the dip version of the camping classic combines graham cracker crumbs, chocolate chips, and mini marshmallows, plus a hearty drizzle of chocolate sauce. "It translates so well for a party, and you don't have to have a firepit," Lindsey says.
Ending a shared meal with s'mores just makes sense. "There's an intrinsic nostalgia that goes along with s'mores that makes them so powerful," Lindsey says. "That closeness is what we really want to create night after night at Campfire Grill."
Making it at home is easy, no campfire required. All you need is a cast-iron skillet and an oven. Here, Lindsey shares a scaled-up version ideal for home gatherings or tailgate parties.