It started with garlic, broth, and a trip to the library.
"The first time I ever made garlic soup, I was working at Louis XVI Restaurant. It was the early eighties, and I had to make a soup every day," recalls Susan Spicer, chef and owner of the New Orleans staple Bayona. A friend recounted a memorable garlic soup he'd tasted in Mexico, and the concept intrigued Spicer, eager for another recipe to add to her lineup.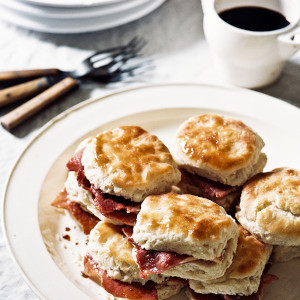 She pored over cookbooks from Spain and Latin America, researching amid the stacks as you did in those days, trying to find some iteration of the elusive dish. "I found a version made with a fish broth and thickened with bread into a puree," she recalls. "Working in a restaurant, there's always stale bread. It made sense to try to make it work."
Experimenting with this single-note soup, Spicer found simplicity drove perfection. "I thought chicken broth would be more universally appealing in the U.S. I added garlic, onions, broth, bread, and a bit of fresh thyme. That's it."
"My chef tried it and said, 'This is unusual. You need to put it on the menu.'"
And she did—and did again and again. Spicer packed up the recipe with her on her next culinary stop at Savoir Faire, then took it with her to Bistro at Maison De Ville. Eventually Spicer and the soup made their way to her own restaurant, Bayona, which opened in 1990 in a circa-1769 Creole cottage in the French Quarter. The dish kicked off the inaugural Bayona menu and remains there three decades later.
Anyone who's ever tasted a smooth, creamy bowl of this aromatic creation immediately understands its staying power. It's not a soup you expect or soon forget, and it's one worth traveling all the way to New Orleans for, especially given the labor of love that goes into each bowl. "In the early days we had to peel all the garlic by hand," Spicer says. "We'd peel ten pounds of garlic."
And not just any garlic. "It might be a mental thing, but it has to be California garlic. It's the best," she says.
Beyond the sourcing, the magic is in the preparation. "I caramelize the garlic and onions in butter and garlic—low and slow so it doesn't burn," she says. A bouquet of herbs enhances the flavor without distracting from the star of the show.
At Bayona, Spicer and her team make two big batches twice a week, letting the flavors come together as the soup sits. Just before serving, it's finished with a bit of cream, but not too much since the soup's thickness comes primarily from the bread. "The cream tones down the intensity a bit," she says.
Add a glass of a light red wine, Spicer's own recommendation for a pairing, and know that the first spoonful is all it takes to understand how garlic, broth, and some stale bread come together in the perfect marriage of simplicity and indulgence.