"Say hello to your new best friends," says a guy in a blue suit with a lanyard around his neck. Just past noon, the front bar at Pêche, set in a mansard-roofed corner building walking distance from the New Orleans convention center, is packed tighter than a barrel of herring. As he squeezes his foursome into a three-stool space, light cuts through high-arched windows, bouncing off a beautifully patinated mirror rescued from a Bourbon Street gentlemen's club.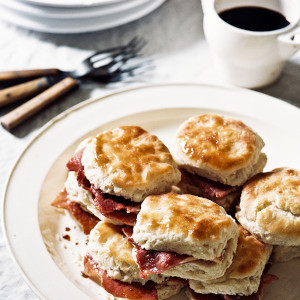 Charcoal studies of redfish line the walls. Oyster watercolors, too. Rendered in clean lines, they broadcast the surety of this kitchen. Above a hammered-nickel tub holding ice and bottles of wine, a French Empire chandelier sparkles. A clutch of unicorns, an unofficial symbol of this ten-year-old seafood restaurant, romps across the backbar. We take our seafood seriously, the scene suggests to lanyard wearers like our new friends, but we never forget that dining out should seed joy and wonder.
My wife, Blair, and I usually show about the time Pêche opens for lunch. (Since the pandemic, many restaurants have cut back to four or five days; Pêche serves seven days a week, opening at eleven and closing at ten.) Buttressed by timbers that look like they could hold up a highway overpass, the big dining room is raucous and welcoming. But we like to grab a spot at the back corner of the bar, where we can watch a restaurant at the height of its powers come alive.
Four local attorneys in seersucker and poplin hunker at a tabletop disappeared by two massive snappers, roasted on the wood-burning hearth and painted with jewel-bright salsa verde. Trays of iced-down oysters get passed around the table of a family of six as the four-year-old twins fight over beer-battered fish sticks dunked in kimchi mayonnaise.
As dishes leave the kitchen, stacked on the outstretched arms of servers, we swivel to follow. There goes the beet salad, bound with creamed avocado, tossed with mint and crushed almonds. Here comes the spicy ragù, made from ground shrimp and served in a tangle of noodles. Steam whirls from a carrot sticky toffee pudding, capped with a boll of cream cheese ice cream and scattered with candied pecans.
Ryan Prewitt led the kitchen when Pêche opened in 2013. Donald Link and Stephen Stryjewski, his partners in what is now Link Restaurant Group, advised. A couple of years prior, on a research trip, those three chefs traveled to Uruguay, where they ate big hunks of meat cooked over live fires. That experience inspired an idea: To take advantage of the bounty of the Gulf, what if we built a restaurant that revolved around wood-fired fish cooking?
Nicole Mills worked on that Pêche opening team. A native of the Philippines, she grew up in the city of Cagayan de Oro in Mindanao, where her mother ran a dim sum stall. Before settling in New Orleans, Mills studied and cooked French-inspired foods in New York City and Los Angeles. At Pêche, she connected the cooking of her homeland to New Orleans. (Filipinos have lived and worked in South Louisiana since at least the mid-1800s.) Now she leads the kitchen, weaving together the flavors of Southeast Asia and South Louisiana.
Snapper ceviche came first, inspired by a version her mother makes with fresh coconut milk. Filipinos call this kinilaw, Mills tells me, when I dial after Blair and I eat two Pêche lunches in four days. Mills's version relies on sweet potato puree, radishes, and chili oil. Back home, cooks make laing with braised taro leaves and coconut milk. At Pêche, Mills cooks the dish with kale.
Mills isn't trying to reinvent Pêche. Her gumbo, floated with oysters and shrimp and spears of okra, still relies on briny stock and a deep brown roux. Grilled chicken thighs, on the menu since the restaurant opened, still get slathered with Alabama white sauce. Mills works within the framework she inherited, adding subtle updates that reflect her homeland, the evolution of her cooking, and the multiethnic makeup of her adopted city.
For the shrimp toast, another opening-menu dish, she adds garlic and ginger and a sweet chile glaze. Fried oysters now come with a slaw tossed with pickled pumpkin and roasted pumpkin seeds. Some Pêche dishes already spoke to her. Fried catfish, draped with pickled greens and served in a vinegar and chile broth, reminded her of sinigang, a Filipino dish that gets its sourness from tamarind.
Pêche has always been a different sort of New Orleans fish house. In a city where most fish gets fried and drenched in sauce, this restaurant made its reputation on bright and buoyant flavors. Now Pêche is different in new ways. Ten years back, watching regulars embrace dishes like whole roasted fish and catfish with greens, Nicole Mills saw her future. Developing a Pêche take on kinilaw, Mills knew she could contribute. To mark what New Orleans will taste like in another ten years, regulars and conventioneers alike now converge in this joyous dining room. "We've gotten them ready," Mills says, speaking of her customers and her adopted city. "We've opened them up."