Music is the big attraction at the annual New Orleans Jazz & Heritage Festival, which kicks off its jam-packed, two-weekend schedule on April 28. But many longtime attendees consider the local food vendors an equal draw—and the Panorama Foods stand's signature crawfish bread a major headliner. So it came as a shock that this will be the first Jazz Fest since 1987 at which the indulgently melty amalgamation of cheese, crawdad tails, butter, and peppers—stuffed into a slim, warm loaf of French bread—won't be on hand.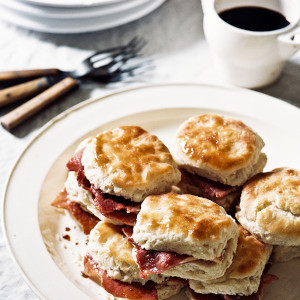 Panorama owner John Ed Laborde, the originator of crawfish bread, cites ongoing labor and equipment challenges, along with changes in vendor contracts, for the decision. "I'm not going to get into it all, but I sat back and realized this might be the time," Laborde says. "It's been a heck of a ride. I have chills just thinking about it."
Crawfish bread almost never became a Fest staple in the first place. Fresh out of LSU in the early 1980s, Laborde concocted crawfish bread to feed his hungry buddies and capitalized on the period's Cajun food craze to get it into some stores around his hometown of Marksville, Louisiana. Attending Jazz Fest soon after as a spectator, he inquired about becoming a vendor but was rebuffed because crawfish bread wasn't considered a "heritage item" like the po'boys and jambalaya served at other booths. "Maybe so," Laborde says, "but I'm from Cajun country, and it's a heritage item to me."
Persistence paid off the following year when a vendor spot opened up a month out from Jazz Fest. "We had a tiny booth. The festival opened at 11 a.m. and nothing was happening, nobody came to us," Laborde remembers. "My older brother took some free samples out into the crowd, and finally a few customers showed up. Around the same time, a Times-Picayune photographer came by, and our crawfish bread was in the paper's food section the next morning. That day we opened with a line, and they kept coming."
Did they ever. The crawfish bread–craving masses blocked other booths, so Panorama had to be relocated to a bigger vending area, an anchor spot that it occupied for the next thirty-five years. Crawfish bread soon became synonymous with Jazz Fest, with fans risking cheese-slicked fingers to consume upwards of twelve thousand loaves each year. Notable devotees included rocker John Fogerty, newsman Ed Bradley, and a fellow tourist Laborde once met in Italy, who seemed as excited to meet "the crawfish bread man" as he was to see the pope.
"The same people show up from year to year, and you get to know them," Laborde says. "Crawfish bread is different, and it's a handheld food, so it's so easy to walk around and eat it at a festival."
This year, another longtime vendor, Vaucresson Sausage Co., will sell po'boys from Panorama's old spot. "I feel for them, because people are going to walk up and order crawfish bread," Laborde says.
Could another Jazz Fest vendor attempt to fill the void? "As in anything, there are copycats, and some folks probably are thinking about it," Laborde laughs. "But they'll need ten convection ovens and twenty people to run the operation. It's going to be tough."
The good news for those who exit New Orleans Fair Grounds unfulfilled, or are just crawfish-bread curious, is that Panorama has for several years been shipping its famed creation nationwide in orders of three or four loaves, which simply need to be thawed and placed in the oven. (Available variations include shrimp bread as well as sausage and jalapeño bread.) More information, including order deadlines and prices, can be found at nolacrawfishbread.com.
Is it possible that Panorama might bring its beloved creation back to the Fair Grounds in the future? "Here we are, with Jazz Fest coming up, and I'm having withdrawals," Laborde admits. "I don't regret my decision, but I'm going to miss it terribly. I'm sure that Jazz Fest and I will talk again."