Auburn University's Rane Culinary Science Center (RCSC) facilitates the training of aspiring chefs and restaurant professionals, but it's not simply an educational track. The year-old program also serves as a dining destination complete with showstopping tasting menus, a 650-label wine collection, and top-notch service.
The 1856 Culinary Residence (named for the university's founding year) is the product of RCSC students collaborating extensively with hospitality experts, including one or more acclaimed chefs in residence. This year's resident chef is Ford Fry, an Atlanta-based culinarian whose twenty-three restaurants span the South.
Below, chef Fry shares what it's like being at the forefront of a program that's mutually beneficial to students and patrons.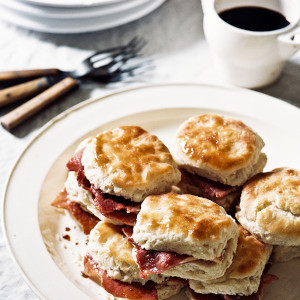 ---
What prompted you to get on board?
My son graduated from Auburn, so having the opportunity to return to this incredible campus and mentor students is really meaningful. I've been amazed by the work being done at the Rane Center since it opened last year, and my hope has always been that each student feels inspired to come grow with our team one day.


What does a typical work day look like for you as the chef in residence at 1856?
I visit to work with the team on menu development and refinement often, but the executive chef [Thomas Baco-Wang] really does just that on the day-to-day: executes. I'm always in the conversation, even if not there physically—over the phone, text, email, making menu tweaks and suggestions and making sure we're executing to our highest standard.


Do you allow the students to choose dishes for the menu?
Remembering my days at culinary school, I loved the collaborative menu development process. We hope to get there for sure!


What can guests expect from the tasting experience at 1856?
At 1856, we are always letting what's in season direct the menu. There's beauty in letting the ingredients speak for themselves and making delicious food, over food that's of the moment. Guests can always expect a first course to get them excited for what's to come, plus a selection of pastas like gnudi with brown butter truffle jus and Parmesan; seasonal and sustainable fish and meats; all followed by a cheese and salad course highlighting neighboring farmers and great cheesemongers, with indulgent desserts and a sweet send-off. Also, having an open kitchen is always a memorable experience, since guests are able to watch as their dishes are prepared with our selected seasonal ingredients.
Have there been particularly rewarding moments?
Absolutely. It's extremely rewarding to see the students gain an understanding of seasonality and the importance of working with what the farmers are growing versus sourcing ingredients based on what they want to cook. It's also really impactful to provide these students with this learning opportunity, where we can watch them grow in such a unique restaurant providing a one-of-a-kind experience for guests.


What is one piece of advice you would give to students in this program?
It's all about putting in the work. Very few people become successful in this industry without a lot of hard work. But when you put in the work and you see the end result and it clicks with guests, the reward is so worth it.


The program's tagline is "the future of hospitality." What do you see happening in the future of the 1856 Culinary Residence?
I hope that these talented students continue to be inspired by us and our ethos beyond the 1856 Culinary Residence and are able to take what they've learned out into the world. In addition to the students, I think the model itself is fantastic—I hope to see more restaurants across the country providing this hands-on teaching experience.