Nutritionists aren't kidding when they tout breakfast as the most important meal of the day. Of course, the pros have glucose levels in mind when they advise against starting on an empty stomach. But an added benefit of seeking out a country ham biscuit, catfish Benedict, or eggs and rice is getting acquainted with the place that produced it.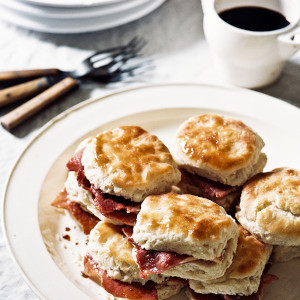 Restaurants that specialize in breakfast crack open a window to their communities and give visiting eaters a chance to get to know the people who enliven them. A tasting menu restaurant might be trendy, but breakfast joints are the real deal for local flavor if you're visiting a new town—folks don't put on airs when they go out for breakfast. Get a taste of what the regulars come back for again and again at these early-bird restaurants across the South. Doctor's orders.
photo: TIM ROBISON CREATIVE
Asheville, North Carolina
As its name implies, the staffers at All Day Darling trot out classical pastry techniques each day from 7:00 a.m. all the way until 9:00 p.m. The bustling café in Asheville's historic Montford neighborhood is a reliable source of impossibly flaky croissants and airy profiteroles—at least for breakfasters who aren't distracted by the shakshuka or frittata, showcasing local greens.
Still, that baking rigor doesn't rule out earthier practices in line with Western North Carolina kitchen traditions, such as foraging. "We have a bunch of honeysuckle growing outside, and we might infuse that into pastry cream," says Ashley Cort, who leads the pastry program at the restaurant opened by chef Jacob Sessoms. In other words, All Day aims to both reflect and serve its surrounding area, whether that means a wake-up cup of tea sweetened with mountain honey or regular pizza nights. "We're very community oriented," Cort says. "We draw on a lot of love and support."
---
photo: HOUSTON COFIELD
Memphis, Tennessee

Even before Adrena and Wendell T. Jackson offered stacks of pancakes slathered with caramelized bananas Foster sauce, and even before they'd introduced breakfast fans to the signature hot thigh sauce that zips up Eggxactly's chicken and waffles, people from the neighborhood congregated at their place.
That's because the bungalow on Marlin Road, which started out as the couple's house, served as a barbershop and beauty parlor before Wendell (who had previously worked as a butcher) decided to dip back into the food world. It took the Jacksons three years to convert the building into a restaurant, which opened in 2019. "Memphis really didn't have a breakfast spot where people could commune together," says Wendell, who estimates most customers linger at their tables for about three hours. One popular conversation topic is that hot thigh sauce, which he blends from seven different fruit juices and something spicy that he won't reveal. "It's hot, but it's not too hot where you can't stand it," he says. Savvy customers apply it to Eggxactly's fried catfish.
---
photo: MATTHEW JOHNSON; Annie Ray
Austin, Texas
Austin has plenty of restaurants that cater to breakfasters seeking vegan migas, gluten-free tortillas, and morning Micheladas. Joe's Bakery & Coffee Shop is not one of them. "That's just not what we are," says Regina Estrada, who describes her family's homey spot as a time capsule. "We're happy that's how [other places] do it—that's the beauty of living in Austin—but our recipes call for certain ingredients."
Ingredients such as flour for the warm tortillas, which swaddle eggs scrambled with chicharrones softened in salsa, and tender pork for the carne guisada, plated with crisp bacon, beans, and fried potatoes. Yet while the Tejano and Motown classics on the jukebox may suggest otherwise, Estrada says that Joe's is open to change, so long as it's considerate of locals who've been customers for half a century. For example, Joe's dropped the listing for chorizo and eggs from its menu because hipsters complained the spicy sausage dish wasn't eggy enough. But as regulars know, the kitchen never stopped making it.
---
photo: RUSH JAGOE
New Orleans, Louisiana
Majoria's Commerce Restaurant's delivery fleet consists of a single army-green Electra bicycle that longtime employee Ernest Brown pedals to offices across New Orleans' Central Business District. But if you get your Commerce Breakfast Biscuit brought to you, its jalapeño-and-sausage-flecked cheese sauce—applied so lavishly that the egg sandwich is offered in both full and half portions—won't be seasoned by the lively conversation of residents who've been filling Commerce's Formica seats since 1965. Staffed by servers who can toss a friendly greeting in your direction without slowing down, the timeless diner is the ideal starting place for a busy day or one that follows an especially festive night. (Tip: hash browns embroidered with smoked sausage.)
---
St. Augustine, Florida
Just like the sea cows in the paintings that line the walls of this shotgun strip-mall space, rendered cozy and cheery by the Manatee Cafe, many diners here are sworn herbivores. While the restaurant is not exclusively vegan, the sensitivity it has demonstrated on the dietary restriction front since its early-nineties juice bar days has made the Manatee a favorite of locals who prefer to eat plants.
Breakfast is arguably the easiest meal for omnivores to imagine replicating without animal products: They envision a burrito with hummus and sweet potatoes, or oatmeal crowned with fresh organic fruit. The Manatee serves those dishes, but longtime customers know its kitchen is equally adept at sunrise classics that most vegan home cooks wouldn't dare attempt, such as French toast. Spelt flour bread, crisped at the edges, is an ideal canvas for maple syrup, walnuts, and bananas. Among the other celebrated dishes are scrambled tofu crowned with zesty salsa, and an omelet brimming with mushrooms and avocado.
---
Richmond, Virginia
First-time visitors to Millie's Diner, a name rarely mentioned in Richmond without "the classic" or "the iconic" preceding it, sometimes grouse that the menu skews too savory. After all, the restaurant since its 1989 opening has been best known for its "messes," or flavorful frittatas ornamented with sausage and veggies, and its home fries, crusted in Indian spices and tossed with garlic. Amid so much umami, you can't blame a Belgian waffle habitué for feeling at sea.
Maybe regulars aren't squawking because they're reluctant to see weekend brunch lines grow any longer, but the Millie's menu indeed has a sweet spot. For a kick-start sugar fix, cast your eyes upon the cocktail list, headed by the Evil Keevil, a locally beloved rum punch. Millie's also devises seasonal drinks, such as spiked peanut butter hot chocolate in winter, and key lime pie martinis in the summertime. (Of course, there's always house-made Bloody Mary mix on hand for the pepper partisans.) With creativity and verve that transcend the retired diner that houses it, Millie's has left an impression well beyond the Tobacco Row neighborhood it's always called home.
---
Atlanta, Georgia
The patrons most frequently associated with the White House Restaurant might be Buckhead's resident corporate executives, former elected officials, and socialites, but Rodney Mims Cook, Jr., became a regular of the seventy-five-year-old breakfast institution when he was just a kid taking clarinet lessons across the street. "I remember vividly walking there in the winter," Cook says. "The warmth of the place and the smell of cooking bacon were so embracing."
As the president of the National Monuments Foundation, Cook has devoted much of his career to the protection of civic icons and doesn't hesitate to include the checkerboard-tile-floored White House among them. Owned by the Galaktiadis family since 1971, the diner is hailed by Atlanta's choosiest set for the hospitality and Greek-Southern plates that won over Cook. The Olympic omelet, teeming with spinach and served with tzatziki, is a favorite, as are the garlic-rubbed steak and gyro platter, along with the grits that Cook orders when he eats there with his mother. They have a standing weekend White House date.
---
Seven Other Spots to Check Out
Surfside Beach, South Carolina

Don't let the name fool you. Omega deserves to be first and foremost in all discussions of Grand Strand pancake houses. The restaurant specializes in the warm hospitality that breakfasters crave as much as coffee in the morning, but what makes Omega so special is its tender, lofty cakes, served with real butter and organic maple syrup.
---
Pinehurst, North Carolina

Even Pinehurst visitors who can't abide hearing about any sport other than golf swear by this pint-sized breakfast bungalow, situated just paces away from the loop where harness racers practice. The menu lists French toast, biscuits, and eggs, but it's the blueberry pancakes that come up in conversation on the links later in the day.
---
Savannah, Georgia

After two decades of charming customers with its slow-cooked grits and saucy shrimp, which get by just fine without an assist from pork products, Narobia's in 2021 vastly expanded its dining room. Now three times as many eaters can simultaneously enjoy Reid family recipes, including a lacy French toast that's promoted as being too sweet to need syrup.
---
Petersburg, Virginia
As the name implies, the chatter and coffee are both forceful at this feta omelet stronghold, founded in 1975 by George and Loula Kolidakis. One point of agreement among loyal patrons is the supremacy of the crisp-edged home fries, bold and beautiful in their handwrought asymmetry and generous shake of black pepper.
---
Hattiesburg, Mississippi

Even though Coney Island has been serving its eponymous, red-skinned dogs with oregano-flecked chili since 1923, avid fans of the institution order them with last-chance enthusiasm at 6 a.m. Should you find yourself atop a swiveling stool at the diner counter or tucked into a booth decorated with fading Fokakis family photos, you might prefer eggs and bacon from the storied grill.
---
Birmingham, Alabama
 After Bogue's closed in 2022, following an eighty-four-year run, Birminghamians weren't sure where to go for breakfast. But Fife's has been there nearly all along, having opened in 1959. The homey restaurant shifts to cafeteria service for lunch, but scrambles eggs and flips pancakes to order. Devotees are divided on sides: Some favor thick-skinned smoked sausage, while others are partial to sweet country ham.
---
Memphis, Tennessee

Located just down the block from where Elvis Presley used to practice karate, Tastee is housed in a former Coleman's Bar-B-Que, the 1960s chain that left ghost pits all over town. Barbecue is available at 6 a.m., but regulars typically take their before-work pork in the form of brawny bacon slices, smoked bologna, or zesty sausage, nestled against grits sagging with butter.