Among the many fierce and tangled debates about Southern food, banana pudding offers a clear line of demarcation: Either you like it cold, or you like it warm. Chef Rob McDaniel, who owns Helen in Birmingham with his wife, Emily, is a warm pudding guy. He grew up in Haleyville, a town of about 4,300 people in northern Alabama. Both his grandmothers made warm banana pudding. They'd layer cookies and warm custard with banana slices in a Pyrex dish, then top it with egg whites and sugar whipped into a simple meringue.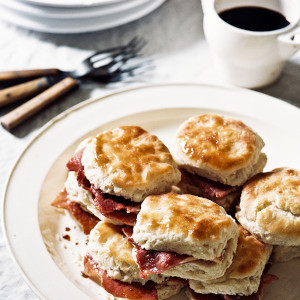 "If I had cold banana pudding, it was because it had been sitting on the counter and it was later after lunch," he says. "When I eat cold pudding, I think of one of those pudding cups."
When McDaniel was considering adding warm banana pudding to the menu at Helen, which he named after one of those grandmothers, he asked the staff for a show of hands. "How many people grew up eating warm banana pudding?" Only half the room raised a hand. "It was kind of mind-boggling," he says. "I knew cold banana pudding existed, but I didn't realize how many people were purists about it."
McDaniel, who has a hospitality degree from Auburn and studied at the New England Culinary Institute, set out to change some of those minds by making a homey but sophisticated version of the pudding he was raised on. It starts with pecan sandies, which stand in for the traditional vanilla wafer cookies. He bakes his own, and if you have a favorite recipe for pecan sandies and the time to make a batch, it's a wonderful touch. Otherwise, he says, store-bought is fine.
As for the warm custard, keep an eye on it as it cooks, he advises, so it doesn't get too thick. The crowning touch is an Italian meringue, which requires beating hot sugar syrup into egg whites. It's a little trickier than what his grandmothers used to top their pudding, but much silkier and substantial enough so swirled peaks of it brown nicely. He uses a kitchen torch, but a brief trip under a broiler works, too. (His recipe will leave you with some extra meringue, which he suggests baking into small meringue cookies to serve on the side. It can also sub in for frosting on cupcakes.)
At the restaurant, McDaniel layers cookie pieces, banana slices, and custard into jelly-style mason jars. You can top the jars with the meringue and serve right away, or keep them in a warm-water bath until dinner is over. It's a bit fancier than his grandmother's Pyrex pudding, but the effect, he says, is the same. "It's like this warm hug," he says. "You don't get that from cold banana pudding."