If you've been paying close attention, you might have noticed that Italian cocktails are having a serious moment. The recent revival likely started with the classic Negroni penetrating the national consciousness with its hundredth anniversary in 2019. Today, the trend has switched to espresso martinis, as drinkers are looking for that late-night pick-me-up to replace the one-time ubiquitous Red Bull and vodka.
A bevy of Italian cocktail bars have popped up in major cities around the United States. New York and Los Angeles are swamped with them, and Chicago isn't far behind. But don't discount the South's ability to elevate and refine a trend—that's where Brother Wolf comes in.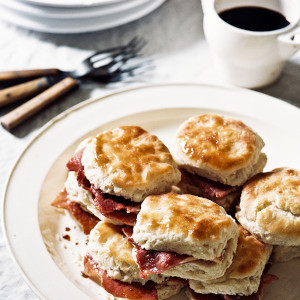 In my upcoming book, Italy Cocktails: An Elegant Collection of Over 100 Recipes Inspired by Italia (it publishes on October 31, 2023), I chronicle the history of Italian cocktails and profile some of the best Italian cocktail bars in the world (and showcase their recipes). Throughout all my research, I learned that one of the best spots in the country just so happens to reside in Knoxville, where proprietors Jessica "Rabbit" King and partner Aaron Thompson opened Tennessee's first aperitivo bar in 2021 to celebrate their love of all things Italy.
"My first trip to Italy was when I was eighteen," King says. "I went to Europe for several weeks, and it was like the perfect moment in my life to have my brain exploded by new experiences and new cultures. And I just became a little bit obsessed with Italy."
King's obsession focused on the Italian culture of aperitivo. Don't mistake this for a happy hour, though. Aperitivo in Italy is a way of life. It's a time, after work, to socialize with friends and drink low-ABV (alcohol by volume) cocktails that are meant to stimulate your appetite for dinner. "It was unbelievable to sit and watch [aperitivo], night after night, because it taught me so much about Italian culture," King says. "You're not watching a bunch of people sit there and pound shots and chug beers on a mission to black out. It was so civilized, and just so casual and easy."
King wanted to bring that experience to Knoxville, where an unsuspecting public was about to be Italicized. King decided to open a bar that, she says, "fosters long conversations fueled by long drinks." King, a third generation Knoxvillian, wanted to build a bar that reflected the way her own friend group was growing and changing. "We sit and we talk, and we don't live in our cell phones, and it's the time that we get to spend with each other, especially as we all get a little older."
Brother Wolf is stunning—a happy landing pad for my research. The yellow back-lit bar is flanked by polished wood floors, plush red booths, and a bright orange neon Brother Wolf sign. Looking at the menu, you'll spy rare Italian amari, grappe, vermouth, and liqueurs. There are ten different Negronis, eight spritzes, and a bevy of classic and unique Italian cocktail concoctions. All drinks come with chips and Castelvetrano olives (the most classic supplement to any authentic aperitivo in Italy). There's also a small-bites menu with Italian specialties like arancini filled with pork ragu and caciocavallo cheese, Genovese focaccia, and meatballs doused in tomato sauce and Parmigiano-Reggiano.
But beyond the F&B, this bar, more than anything else, is meant to evoke the spirit of Italian aperitivo—putting down your phone, hanging out with friends (or making new ones), and drinking something to stimulate your appetite (it doesn't hurt that King and Thompson also own Osteria Stella next door). In that way, this uniquely Italian bar is also an analog for Southern hospitality: recipes rooted in tradition, a warm and welcoming environment, and a relaxed place to drink and dine and socialize.
At the back of the bar, there's a graffiti-esque painting of an Italian woman, contemplating life and nursing a spritz. Over her head is an insignia that says, "Chi non beve in compagnia o e un ladro o e una spia," which translates to "Anyone who doesn't drink with company is either a thief or a spy." To King and Thompson, this sums up their aperitivo ethos—you're meant to drink together, eat together, have fun together, and enjoy "la dolce vita," which is "the sweet life" combined with Southern and Tennessee charm.
In my new book, and here, the Brother Wolf team generously shared the recipe for one of their signature cocktails, Il Professore. It takes your taste buds on a bitter and sour journey, but with a final stop of sweetness to cut things down a bit. This drink has three different amari in it—Amaro Montenegro, which is smooth; Fernet-Branca, which is very bitter; and Cynar, which is less bitter than Branca but is made with artichokes for a unique flavor profile. Make this cocktail at home to surprise your guests with something different—and order it at Brother Wolf the next time you find yourself in Knoxville.