With its miles of Atlantic and Gulf coastlines, accessible beaches, and (mostly) alluring year-round seaside conditions, the South is arguably one of the best places to hunt for shark teeth. Avid beachcombers—myself included—flock to its sandy shores. We put our heads down, slowly strolling along the surfline and shell beds in search of pointy little souvenirs. I've always loved finding nifty beach keepsakes, but this summer I've spent just about every weekend doing the "shark tooth shuffle," seeking new additions to my ever-growing collection. Most of the time, the teeth you'll find are ancient—they've lost their pearly whiteness and have fossilized into an inky-black hue over the course of thousands (and often millions) of years. As you search, look for dark, shiny, triangular shapes, and if you want a few more pointers on what to look for, read these top tips from a paleontologist. 
Whether you're a fossil-hunting veteran or just want to find a few specimens to impress your friends, here are seven hotspots to consider for your next excursion.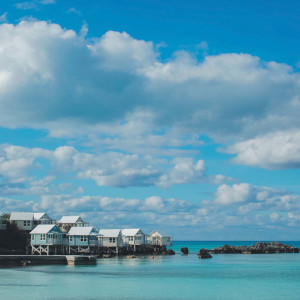 Venice, Florida
Famously dubbed the "Shark Tooth Capital of the World," Venice's fourteen miles of Gulf coastlines offer plenty of prime spots just south of Sarasota. Just north of Venice lies the small barrier island of Casey Key. Searching along its turquoise waters makes the experience a treat, even if you aren't rewarded with any teeth. Farther south beyond the Venice Fishing Pier is the true mecca for tooth seekers: Caspersen Beach, Sarasota County's longest beach and one of its most secluded. If you're feeling adventurous, head south four miles to Manasota Key, another top-notch locale.
---
Folly Beach, South Carolina
Just south of the Charleston peninsula, Folly Beach is one of the most popular areas in the Lowcountry for tooth-seekers (and my personal favorite hunting ground). Renowned for its chill surfing vibes and family-friendly atmosphere, the area draws in plenty of tourists, so be sure to beat the crowds early (and preferably at low tide) for prime pickings. Start at the pier and work your way south. It's an ideal location for kids to practice their spotting techniques—the teeth are plentiful here, but can be tiny.
---
Holden Beach, North Carolina
The charming little town of Holden Beach, a beloved vacation destination located midway between Wilmington, North Carolina, and Myrtle Beach, South Carolina, is a hidden gem for those seeking a tranquil place for beachcombing. Head west from the pier, just as high tide is receding, and search along the surf line through the tidal pools and shell beds. At the east end of Holden Beach near Lockwoods Folly Inlet you may also uncover seabiscuit fossils, saw-toothed pens, sand dollars, conchs, whelks, and other shells in ankle-deep water during low tide.
---
Calvert Cliffs, Maryland 
Maryland's towering Calvert Cliffs run roughly twenty-four miles along the shores of the Chesapeake Bay and contain hundreds of species of plant and animal fossils. Research before you go, as many of the cliffs are on public property, but there are places nearby where shark teeth and fossils wash up onshore, such as Flag Ponds Nature Park. Take note: Digging into the actual cliffs is illegal, and some of the beaches are completely underwater during high tide—the best way to safely explore the area is with a local expert, such as the Chesapeake Heritage and Paleontology Tours. 
---
Montross, Virginia
A few hours south of Calvert Cliffs is the 1,300-acre Westmoreland State Park, an area on the Potomac River's Northern Neck known for its bevy of shark teeth, whale bone fossils, and other artifacts within its 150-feet high Horsehead Cliffs. Chippokes State Park, near Williamsburg along the banks of the James River, is another popular Virginia locale for fossil hunters. Pro tip: Not having much luck? Chat with the park rangers in the visitor center—they can offer some handy pointers.
---
Amelia Island, Florida
Amelia Island (a favorite summer getaway of novelist John Grisham) is a charming little barrier island about thirteen miles from Jacksonville. The northern area, near Fort Clinch State Park, offers an abundance of good hunting. Teeth are often washed onto the beach from St. Mary's River, whose inlet is an entrance channel for submarines at Kings Bay Naval Submarine Base. Just across the nearby Florida-Georgia line is the undeveloped Cumberland Island, which you can access via ferry. You're likely to spot a few teeth peppered along its rustic roads since they're graded with dredged sand.
---
Bolivar Peninsula, Texas
With its Pleasure Pier full of happily shrieking roller-coaster riders, Galveston doesn't seem like an ideal spot for shark tooth hunting. But take a twenty-minute ferry ride across Galveston Bay to the Bolivar Peninsula and you'll find a refuge from the crowds. The ferry is free and runs all day, so you can beat the heat and get a headstart in the morning. At Crystal Beach, shark teeth are typically found in the "shell hash," the accumulations of smaller shells and larger pieces of sediment that are deposited by the tide in noticeable rows along the shoreline.