In both of her first two psychological thrillers, Stacy Willingham invites the reader to experience Southern life through the lens of her own memories living in South Carolina. The novelist distinctly recalls her first whiff of pluff mud as a young teen and remembers spending long hours on her parents' dock at their home in Mount Pleasant, South Carolina. Years later, after living in Georgia, she and her husband (and their larger-than-life doodle, Mako) returned home to the Charleston area, settling down near her old stomping grounds.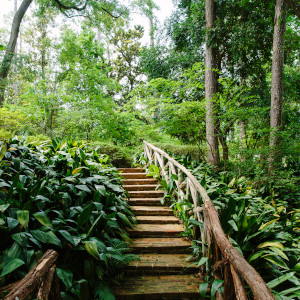 Though she dabbled in fiction for nearly a decade, it took Willingham years to nab a book deal. In 2020, persistence paid off when she landed her first book deal, and eighteen months later her debut, the Louisiana-based novel A Flicker in the Dark, catapulted her into the spotlight—and onto the New York Times bestseller list. Her second thriller, All the Dangerous Things, came out earlier this year, and like the first, also harbors Southern inflections—from its Savannah and Beaufort settings to lucid descriptions of life around the Lowcountry marshes. The Grit, a fictional Southern magazine in the novel, might sound familiar to G&G readers with its articles about "where to find the best quality bird knives," "the evolution of country music," and "the well-kept secret of a perfectly tart tomato pie." In case you're wondering, yes, Willingham confirmed that it is indeed based on our magazine.
G&G sat down with Willingham to hear more about the Southern influences in her writing, how she keeps her readers guessing, and her favorite spots around Charleston.
Have you always wanted to write thrillers?
There's never really been a moment when I wanted to write anything but thrillers. What I struggled with in the beginning is that I love playing with creative ways to describe things—but often thrillers are not written in that way, because they need to be fast-paced. The concept of a whole block of descriptive text can slow a book down. I've learned how to use my writing to still make a book a page-turner, but also hopefully something that's enjoyable to read with interesting language. My favorite part is developing twists and figuring out how to place the clues in a way that maybe readers don't know they're reading one until I want them to. It's like a puzzle to me.


What's your writing process like? Do you map it out ahead of time or do you see where the story takes you?
A little bit of both. At any given time, I have a handful of book ideas bouncing around in my head, and in order for me to commit to one, I need to know that the ending is going to be shocking and satisfying. So I can't just sit down and write without knowing what the ultimate twist is at the end. When I write page one, I'm at the starting line. I know what the finish line is, I can see it in the distance, but I don't know how I'm going to get there. So everything that comes in the middle, I make up as I go, which ultimately leads to a lot of editing to make all the pieces fit.


In All the Dangerous Things, you write: "I breathe in the smell of the marsh now, one single whiff immediately transporting me back there. Back home." How did your upbringing in coastal South Carolina shape your novels?
I grew up in Mount Pleasant, and I spent a lot of time on my parents' dock, just sitting and observing. The noises and the smells and sensations, they're unique around here. Our family moved there from Chicago when I was twelve and I vividly recall driving down Highway 41 and thinking, "I am in a different world." We moved in the summer and I remember getting out of the car for the first time and the wall of humid air hitting me as soon as I opened the door. The tide was low and I could smell the marsh… I had never experienced that before. It's nice to be able to share certain sensations with readers who aren't familiar with life down here and transport them to a new place.


Who were some of your favorite Southern writers that inspired you?
Pat Conroy is an obvious one. Prince of Tides will always be one of my favorite books of all time. Before I bought my house in West Ashley, I lived in Wagener Terrace right next to the Citadel, and so of course I read Lords of Discipline. It's a quintessential Charleston story. I also like Greg Iles—he writes about Natchez, Mississippi, mostly. There's a blanket statement of "the South"—but if you get a little more granular, every pocket of the South is unique. I like finding Southern writers who have their own take and I can discover a little corner of the South that feels different from the one I'm used to.
Speaking of writing, where's your favorite place to write?
I mostly write at home, but I get distracted. So, my go-to spot is Mercantile and Mash. If I'm in Mount Pleasant, I go to Vintage Coffee. When I was working a nine-to-five, I wrote almost all of A Flicker in the Dark at The Harbinger—during my lunch breaks, I'd crank out a chapter or two.


Where's an ideal date spot around Charleston?
It depends on the time of year. During the summer, my husband and I like going to Sullivan's Island. We might pop into The Co-Op and get a frosé, go to the beach to watch the sunset, and then head to Poe's Tavern afterwards for burgers. A lot of times, we'll just pick up some takeout and head out on our boat and anchor by the Ravenel Bridge and have our own little date night on the water. On Saturdays in the fall during football season, we're loyal Home Team barbecue fans. We also love going to Little Jack's and eating at the bar. It's one of the few places in Charleston that you can just walk into without a reservation.


What's a hidden gem in Charleston many visitors might not know about?
These days, I spend a lot more time in the little suburbs around Charleston now than I do downtown. I don't know that it's considered a hidden gem, but we often go to Frothy Beard. They have great pizza and beer. We also love R Kitchen—it's a true local favorite that's so hidden, you can't even tell it's a restaurant from the outside. It has some of the best food in the city.


Rapid Fire:
What's your favorite Southern food?
Oh, boiled peanuts, for sure. Tony's boiled peanuts are my favorite. We used to eat those at the RiverDogs games all the time when I was growing up. I'm also a big oyster roast girl. For the last eight years, I've had an oyster roast on my birthday in our backyard. We usually pick them up from Crosby's, and then maybe get some Home Team catered, too. Oysters and barbecue—I will eat that for every meal.


What's your least favorite Southern food?
I cannot get behind soft-shell crab. I tried it several times—I don't know if it's the texture or the look of it.


What's a place in the South you've never been to, but it's on your bucket list?
I have never been to the Everglades. It just seems like a very wild, different place.


Any good shows you're binge-watching?
My husband and I are finishing up You. And we also love Yellowjackets.


What's a favorite book you've read numerous times?
Prince of Tides is right up there. One of the books that made me want to get into writing fiction was The Book Thief. I remember reading that book and thinking that I would like the challenge of trying to create something special like that.