For some of us, spending the day in the kitchen creating the perfect harvest meal is part of the fun of Thanksgiving. And for others, that's way more work than we want to handle. Can't we just fly and buy?
Well, of course you can. All over the South, there are businesses that want to save you the turkey work. You can order a prepared bird and make the sides yourself, or you can outsource the whole feast.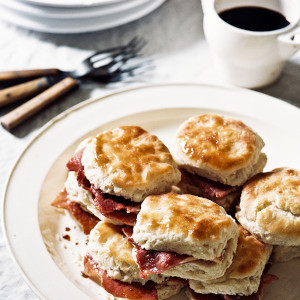 Whether you pick it up in person or order it to be shipped, most prepared turkeys come either chilled or frozen and will need time to thaw and an hour or two to reheat. And it definitely pays to plan ahead: While many places start taking orders in early November, the most popular turkeys tend to sell out.
Here are some options, depending on where you live and what kind of turkey experience you desire.
ALABAMA
2341 John Hawkins Parkway
Hoover (about ten miles south of Birmingham)
205-444-0496
This family-owned butcher shop sells fried or smoked whole turkeys for $75, turduckens for $120, and fried or smoked turkey meals for $150 (includes cornbread dressing, two large sides, a quart of giblet gravy, and yeast rolls). Chilled, with reheating instructions. Pickup only on November 21 or 22. Order online by November 18.


*See details under SOUTH CAROLINA


*See details under TENNESSEE
FLORIDA
3815 S. Dixie Highway or 206 S. Olive Ave.
West Palm Beach
561-323-2573
Pitmaster Rick Mace recently got a James Beard Award semifinalist nod. His crew offers a Thanksgiving family meal, including whole smoked turkey, cornbread dressing, two sides, cranberry barbecue sauce, and butternut squash pie, from $205; serves six to eight. Tropical Smokehouse also offers a honey-brined, smoked Amish turkey for $115; smoked ham also available. Pick up orders on November 22.


1600 Lenox Ave.
Miami Beach
305-538-5220
This classic fried chicken joint (which operates a handful of outposts across the country) offers small and large takeout menus: herb-roasted turkey, mashed potatoes, biscuit stuffing, and bourbon-brown-butter-glazed yams for two to four people for $310; turkey, glazed brussels sprouts, cranberry relish, biscuits, and gravy for six to eight for $590. Also available and tempting: a twenty-four-piece fried chicken dinner with mac and cheese and biscuits for $150, and brown butter bourbon pumpkin pie for $40. Order online by November 15; pickup from 9:15 to 10:15 a.m. on Thanksgiving.
GEORGIA
204 Chattahoochee Row
Atlanta
770-755-509
Whole smoked turkeys get brined and rubbed with a signature spice mixture before smoking over hickory. Turkeys are $95, including a quart of giblet gravy, and serve ten to twelve people. Hams, sides, and holiday packages are also available. Pick up between November 20 and November 22; closed on Thanksgiving. Local delivery options are available. Deadline to order is 5 p.m. November 15, but they usually sell out before then.


2211 Roswell Road NE
Marietta
770-321-4300
Fried, smoked, or boneless turkeys come stuffed with a choice of—deep breath—cornbread dressing, rice dressing, sausage dressing, broccoli cheese and rice, shrimp dressing, or crawfish dressing. Prices range from $59.95 to $63.05 for stuffed turkeys, $104.95 for turduckens (serves twenty to twenty-five), or $61.95 for turducken breasts (serves seven to ten). Turkeys are available all year; order online about two weeks in advance for Thanksgiving or Christmas.


*See details under SOUTH CAROLINA
MISSISSIPPI
7501 MS 57
Ocean Springs
228-875-9590
Whole turkey with a brown sugar rub gets smoked over pecan wood. An order comes with a packet of juices for reheating, which takes less than an hour. Spend $57 plus tax, prepaid, for a twelve- to fourteen-pound turkey (five- to six-pound hams are also available). Must be ordered by 5 p.m. November 21; pick up on November 23 from 10 a.m. to 6 p.m. Also available for Christmas; order by December 19 for December 23 pickup. Order online for local pickup; also available for national orders and delivery through Goldbelly.
NORTH CAROLINA
116 Glenn Falls St.
Peachland (about forty miles southeast of Charlotte)
704-272-6301
Whole turkey breasts ($75) are smoked with white oak and sometimes pecan wood. Most are around four pounds and serve twelve. Half-pans of sides are also available. Preorder for pickup until November 17. Cold pickup from 9 a.m. to 6 p.m. on November 21; hot pickup is available from 8 a.m. to noon on Thanksgiving Day. Order online; no shipping available.


901 W. Morgan St.
Raleigh
919-833-8898
Slow-roasted turkey is marinated in an herb-and-vegetable brine; comes with a pint of gluten-free gravy for $60. Also available: vegan Wellington, classic sides, and desserts. Deadline for orders: November 17 online. Pick up in the afternoon of November 22 or in the morning on November 23.
SOUTH CAROLINA
464 N. Nassau St.
Charleston
843-805-9500
The pitmaster John Lewis's whole smoked turkey breast is $80 and feeds six to eight people. Available nationally by mail order and shipped (via FedEx Overnight) frozen and vacuum-sealed. Deadline to order is 10 p.m. November 14. Local pickup also available, and you can grab some of his famous corn pudding too.


1011 King St.
Charleston
843-990-9535
Get your turkey spatchcocked (spread and flattened), seasoned, and cooked over the pits for $69.99 (serves six to eight). Sides, including baked beans, mac and cheese, collards, coleslaw, and potato salad, are available too. Deadline for orders is November 17. Preorder online and pick up between November 20 and 22. Also available at Rodney Scott's locations in Birmingham (3719 4rd Ave. S., 205-506-2711) and Atlanta (668 Metropolitan Parkway SW, 678-855-7377).


1740 Signal Point Road
Charleston
843-577-7847
The family-style menu feeds ten to twelve people for $500 plus service charge and tax. It includes ready-to-cook lemon-brined Koch Farms turkey plus four sides, gravy, cranberry jam, benne seed brioche rolls (yes, please!), and choice of one pie. Order online by November 15. Pickup is from 10 a.m. to 2 p.m. November 22 at the James Island location.


*See details under TENNESSEE
TENNESSEE
149 Union Ave.
Memphis
901-529-4000
Dinner for four from this iconic Southern hotel includes a twelve-pound roasted whole turkey, plus sides and desserts for $160. Order by November 16 for pickup from 11 a.m. to 3 p.m. on November 22 at the hotel. The large buffet is also available for dining in on Thanksgiving Day. Order a pickup dinner online at peabodyevents.com.


2105 Elliston Place
Nashville
615-219-2704
You can't get a whole turkey, but the historic café has served sliced turkey and cornbread stuffing to go for more than eighty years. Preorder Thanksgiving dinners for four, or order turkey and ham by the pound, along with pies. Pickup only on November 22.


Hog Wild and A Moveable Feast Catering
1291 Tully St. and 921 S. Yates
Memphis
901-522-9453 (A Moveable Feast) or 901-305-6889 (Hog Wild East)
This business is a combination of a barbecue restaurant and a catering operation, and both arms have you covered, with deep-fried ($75) or smoked ($70) turkeys or smoked turkey breast ($18 per pound). Sides and desserts are also available; full menu available November 17. Online ordering only. Pickup only, 9 a.m. to 3 p.m. November 21 at 1291 Tully St., or 10 a.m. to 2:30 p.m. November 22 at Hog Wild East on Yates.
Multiple locations in Tennessee, Alabama, and South Carolina
The pitmaster Pat Martin shares his family recipes for a holiday spread that can star either smoked turkey, smoked ham, or a rack of ribs. The Major Feast ($225) serves a dozen people or more, and the Small Gathering ($130) can feed up to six with a main, sides, rolls, and pie. Smoked meats by the pound, appetizers like deviled eggs and pimento cheese, sides, and pies can also be ordered a la carte. Place orders online by November 16; schedule a pickup between November 20 and November 22.
TEXAS
708 Valley Ridge Circle
Lewisville (twenty-five miles northwest of Dallas)
Fried, baked, or smoked turkey ranges from $79.95 for an herb-roasted version to $84.95 for a Cajun-style fried rendition. Full dinners with sides and bread pudding range from $174.95 to $199.95 and serve eight. Shipping charges are additional. Online orders only. Shipped frozen nationally (but check their recommended delivery areas) or can be picked up locally at the store.


619 N. Colorado St.
Lockhart
512-398-2361
This longtime staple of Texas cuisine shares limited quantities of smoked fifteen-pound turkeys fully cooked over post oak for $89. Available chilled and vacuum-packed; add $5 to pick up a hot turkey. Mail order nationally (sent on dry ice) available. Deadline for Thanksgiving orders and pickup hours aren't yet set, but orders usually start November 1. Supplies are limited, so plan to order online at least two weeks in advance.
EVERYWHERE
Multiple locations
Cajun-style whole turkeys infused with Louisiana-style seasonings are $59.99 at in-store locations and starting at $99.99 for online delivery orders. Call stores or visit in person to reserve or order a turkey for pickup. For delivery, order online at thecajunfix.popeyes.com. Delivery orders need to be thawed and heated before serving.