A sherry glaze and a quick blast in the oven are the secrets to enhancing the inherent sweetness of cherry tomatoes in this puff pastry tart. The fortified wine's distinctive notes of raisins and toasted almonds lend a concentrated, sun-dried complexity to the tomatoes but without sacrificing their pleasing juiciness.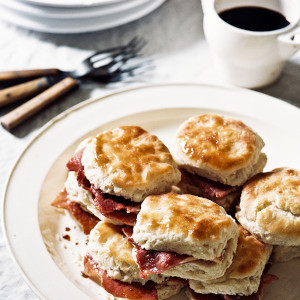 As for the sherry, opt for a good-quality Spanish sherry from Andalusia's "sherry triangle" in southwest Spain for both sipping and cooking. (It's best to avoid bottles labeled "sherry cooking wine" at the grocery store.) Sherry is a complex category, but at its essence, it is aged white wine produced from three predominant grape varieties: Pedro Ximénez, Palomino, and Moscatel. Sherry can be dry, naturally sweet, or blended. The majority of sherry produced is dry and made from Palomino grapes, which is the style called for here. A bit of sherry vinegar adds a bright tang to round out the flavor.
Sticking to the Spanish theme, the custardy base of this tomato tart features the classic mayonnaise mixed with nutty Manchego cheese, citrus zest, rosemary, and sweet smoked paprika. Store-bought puff pastry works fine for this recipe (I like the Dufour brand). Just thaw it in the refrigerator for two to three hours before you start. Any way you slice it, the tart with its golden, buttery crust and roasted tomato topping is as fitting served room temperature with a crisp salad on a scorching summer day as it is served warm with a cup of hot soup when autumn's chill arrives.