Kenny Gilbert made a name for himself as a Top Chef contestant and occasional personal chef to Oprah Winfrey. And as the proprietor of Silkie's Chicken & Champagne Bar, a Jacksonville, Florida, spot popular for foodie spins on fried chicken, buttermilk biscuits, mac and cheese, Hoppin' John, and other comfort foods (plus bubbly cocktails), he knows what Southerners like to eat. Indeed, his first cookbook, the new Southern Cooking, Global Flavors, devotes entire chapters to iconic Southern main dishes and sides such as pork ribs and slaw, fish and grits, oxtails and rice, and collards and cornbread.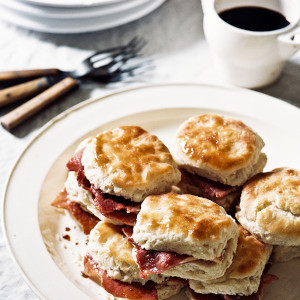 But as you might glean from the title, there's a twist. Instead of simply showcasing chefy preparations of traditional recipes, Gilbert supplies several additional interpretations that bring the flavors of diverse cultures to these favorites. Doing so draws upon his experiences in restaurant kitchens in the Caribbean and worldwide, and especially highlights the invaluable influence of the African diaspora on Southern and American cuisine.
"Here, I share my expertise in understanding authentic flavor profiles and cooking methods from across the world to create a cookbook that celebrates the multicultural American experience, grounded in my own personal food culture," Gilbert writes in the book's introduction.
For an appetizing example, consider the chapter on ribs and slaw, which uses fairly familiar executions inspired by Gilbert's parents as a starting place for variations influenced by the cuisines of Spain, Hawaii, and—as with the jerk-and-guava-forward recipe provided below—the Caribbean. After all, grilling season is just around the corner!
Get Gilbert's recipe for coffee-rubbed spareribs with poblano apple slaw here. 
Get Gilbert's recipe for wasabi, honey, and soy-glazed baby back ribs here.