Anyone who has spent time cooking in California knows the Golden State offers an abundance of flavor. But there are some things it just can't duplicate. Soft-shell crabs are one. Texas Pete, the hot sauce made in Winston-Salem, North Carolina, is another.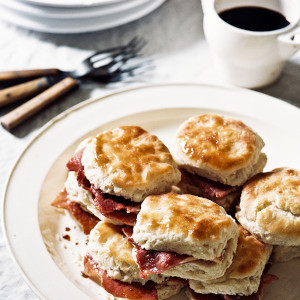 Chef Brandon Sharp, who in 2016 left his cooking career in California and moved back to his home state of North Carolina with his wife, Elizabeth, puts the two together in a restaurant-quality take on softies that is surprisingly easy to execute at home, if you don't mind a little time with hot oil.
Sharp, who grew up in Greensboro, started his career at a Mexican chain restaurant when he was in high school. He went on to attend both the University of North Carolina at Chapel Hill and the Culinary Institute of America in Hyde Park, New York, before cooking his way up the ladder, including stints at the French Laundry in Yountville, California, and Restaurant August in New Orleans. In 2007, he became executive chef at Solbar, a restaurant at the then new Napa Valley resort Solage, where he pulled down seven consecutive Michelin stars. But when the resort was sold, North Carolina was calling. "I missed my family, and I missed the South," he says. Chapel Hill, where his mother was born and his grandmother lived most of her life, "has always been my family's spiritual home." He and Elizabeth opened their restaurant Hawthorne & Wood there in 2019, and last July they added Bluebird, a French bistro.
At Hawthorne & Wood, Sharp makes good use of soft-shells, which are so popular that some customers insist they get a call alerting them when they appear on the menu. Softie season varies by location, depending on water temperature, but in North Carolina it usually starts around late March and runs into June. If you can't get fresh ones, you can easily find frozen softies online.
Sharp likes to coat them in buttermilk and toss them in a lightly seasoned mix of flour and cornmeal, then slip them into a pot of hot oil. Once they're crispy, he dips each crab in a perfectly balanced sweet-hot gastrique made from Texas Pete, ketchup, vinegar, and sugar, and serves it atop a tangle of pickled spring vegetables. He likes a mix of veggies, such as kohlrabi and daikon radish, that retain a bit of crunch in the salty-sugary bath that turns them into his version of chowchow. "I'm a huge fan of quick cold pickles," he says.
As for the frying, make sure to heat the oil fully before dropping in the crabs so they don't come out soggy, and watch out for splatters. "Sometimes those claws will pop and send out a shot of oil at you," he says. And though Sharp loves this recipe with softies, the chowchow and gastrique could play beautifully with all kinds of Southern seafood. "When I was in California, I always pined for East Coast fish and shellfish," he says. "The variety is phenomenal, and it's really fun to cook with."