If Southern food formed a band, succotash would be the bass player. Like a subtle but essential backbeat, the summer dish of corn, beans, squash, and sometimes tomatoes, seasoned with bacon, never seeks attention but is so foundational, the Southern culinary canon would pale without it.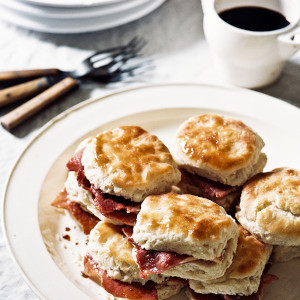 A few things about succotash. The dish is not native to the South. For centuries, cooks from the Narragansett Indian tribe in what is now Rhode Island simmered corn with seasonal ingredients and called it "msickquatash." Southern cooks have happily adopted the recipe, and there are as many versions as there are grandmothers. Case in point: the succotash chef Lawrence Weeks developed for North of Bourbon, which opened in Louisville's Germantown neighborhood in 2021.
Weeks grew up in Kentucky, and after culinary school and honing his craft under chefs including Todd Richards in Atlanta and Ouita Michel in Lexington, he returned to Louisville to become the executive chef at North of Bourbon, where he cooks in a way that connects the city with New Orleans and uses Southern ingredients in unexpected ways.
In this succotash, retooled for the fall, Weeks replaces fresh sweet corn with hominy, which is made by soaking kernels of corn in a lye or slaked lime solution to soften them and improve the taste and nutritional value. (The process is called nixtamalization.) He makes his own, but you can find dried hominy from companies such as Anson Mills and Rancho Gordo, or he suggests looking for frozen hominy from a Mexican market or using canned hominy.
For the rest of the dish, Weeks prefers purple hull peas, but black-eyed peas will do. You can even riff with butter beans or pintos. "I'm a fan of all forms of beans," he says. Charred Anaheim or poblano pepper stands in for the summer squash. And because Weeks first learned to cook from a Cajun Creole grandmother, he incorporates the holy trinity—onions, celery, and bell pepper. But the real twist is a hit of vinegar tempered with coconut milk, which gives the dish a little creaminess and ties it to Africa and, by extension, the South.
The versatile dish can play a strong supporting role as a hearty side or add dimension to dinner under grilled pork or fish. "It's great with a piece of trout," Weeks says. Or if you want to make it the star, he suggests adding some sautéed hand-torn shiitake mushrooms, seasoning the succotash with lime or sriracha, and serving it over rice as a vegetarian main dish.
"I get into these rabbit holes and want to work with an ingredient or a dish all the time or until its story's been told," he says. "Every ingredient or dish has a deep cultural story in the South. I believe this is where the only uniquely American food is from."