Montreal-born Valentine Thomas trained as a lawyer and worked in finance in London for six years before quitting to travel the world, plunge into its seas with speargun in hand, and emerge ready to prepare the freshest catch possible for a surfside dinner. Along the way, she became a fierce advocate for ocean conservation and attracted hundreds of thousands of followers on social media.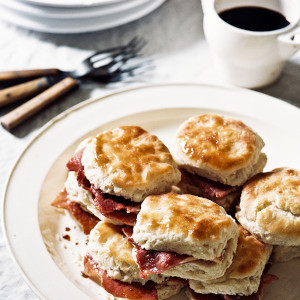 Thomas packs her insights and adventurous lifestyle into her new cookbook, Good Catch: A Guide to Sustainable Fish and Seafood with Recipes from the World's Oceans. Though her pursuits continue to take her around the globe, she seems to have developed an affinity for the South. She recently settled in Austin and devotes chapters in the cookbook to Florida, Louisiana, and the Bahamas. We asked her if there might be a story behind the fantastic-looking recipe for tuna tomahawk steaks in the Louisiana section, and we were not disappointed.
"We left the dock in Venice, Louisiana, early, so the heat was still tolerable as the sun rose on the Gulf," she remembers. "The captain spotted a shrimp boat not too far away, so we headed toward it full speed. We were fishing for tunas, but we also packed beers to trade the shrimpers for some of their catch. As we pulled up behind them, we could tell that the action was on—water was splashing and fins were frenetically breaking the surface from the sharks feeding on loose shrimp that escape the nets. As we geared up, I did have a little knot in my stomach. The plan was to freedive through the layer of sharks to reach the depth where the tuna are, about fifty to sixty feet down. I dove and swam down, trying to stay calm. Suddenly, a massive tuna swam right toward me. This time, curiosity killed the tuna. I swam back to the surface with the tuna while my friend guarded me with a speargun. No way, sharkies, I'd been craving a tuna tomahawk and this fish was mine."
Note: A tuna "tomahawk" steak is cut crosswise, including the center bone, instead of sliced along the fish's length. If the cut is not available at your local fish market, a regular tuna steak will work in this recipe.