In terms of lunch, "going to the beach" often means sipping on juice pouches and eating sandwiches soggy with melted ice from the cooler. Not so in South Carolina, where the coast boasts a lineup of regional dishes as splendid as its scenery. The next time you're beachbound in the Palmetto State, bring along this list of ten standout iconic foods, with suggestions for where to find them—and leave the cheese puffs at home.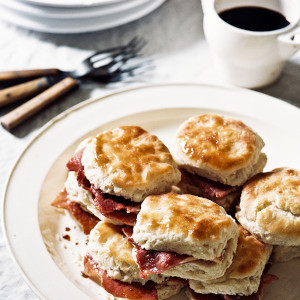 Garlic Crabs
Let Marylanders scrape sweet blue crab meat out of the shell for dainty cakes. The preferred preparation along the South Carolina coast is whole crab roasted and soaked in full-bodied garlic butter sauce, a condiment category that's a point of pride among local cooks and grows more competitive the closer you get to Jacksonville, Florida.
Where to get: The Williams family has wisely not installed seating at Williams Seafood, their popular Walterboro café locally renowned for meaty blue crabs, since a proper garlic crab session should end with butter everywhere. Get plenty of napkins with your to-go box.
---
Deviled Crab
About those crab cakes: If you add a little more cayenne pepper and mustard to the picked meat, and then mound the breadcrumb-textured mixture into vacant crab shells, you're just a quick bake away from another classic Lowcountry celebration of fresh seafood.
Where to get: Restaurant health inspectors prefer alternative delivery methods than crab shells, but the frame doesn't make much difference at the Wreck of the Richard and Charlene, located on Shem Creek in the Charleston suburb of Mount Pleasant. The masterpiece on display here is made according to a recipe inherited from a 1930s Charleston beer hall that specialized in deviled crab.
---
Seafood Salad
A rarity in restaurants, seafood salad is a Lowcountry family reunion favorite worth seeking out for purchase. After all, if you're paying for the mayonnaise-rich blend of chilled pasta shells, boiled eggs, and sweet relish, you'll have first crack at the shrimp in the bowl, an honor usually reserved for the eldest at parties.
Where to get: Chef Sandy Williams, of Sandies at the Gullah Jazz Café in Beaufort, has a wide sides repertoire that extends from sweet potato cornbread to oxtail rice. But fans know to monitor the café's social media for seafood salad mentions.
---
Shrimp-and-Grits
Formerly an affordable fisherman's breakfast, shrimp-and-grits took an upscale turn in the 1980s, when chefs in the Carolinas started pairing the preparation with white tablecloths. Today, the grits can be white or yellow, cheesed-up or plain, but the only version that merits Lowcountry approval is one made with local shrimp.
Where to get: The late chef Philip Bardin—who applied a classical touch to shrimp-and-grits at his groundbreaking Edisto Island restaurant, the Old Post Office—served as the opening consultant for Ella & Ollie's. And he made sure the restaurant's rendition, rich with tomato gravy and bedded down in Marsh Hen Mill grits (milled just down the road), was up to snuff.
---
Rice-and-Gravy
Historically, spiritually, and aesthetically, the Lowcountry's foundational grain is rice. Most luncheonettes in the area serve yellow rice, brimming with chicken stock; red rice, which gets its hue from tomatoes; and brown rice, dyed by drippings. But it's hard to beat white rice, dolloped with thick beef gravy.
Where to get: The only problem with ordering rice-and-gravy at the estimable Buckshot's in McClellanville is choosing a meat to go with it: The restaurant's baked chicken and fried fish are equally excellent.
---
Fried Whiting
Perhaps the most common dish on this list, pan-fried whiting hasn't suffered from ubiquity: Sweet, tender, and crusted by cornmeal, whiting still sizzling from its stay in hot oil is a delicious callback to saltwater summers.
Where to get: Speaking of abundance, Deborah's Kitchen in Georgetown is centered around a buffet, so paying for a plate entitles you to all the whiting you'd like to eat. Try not to fill up on squash casserole, field peas, and macaroni-and-cheese, enticingly browned by the broiler.
---
Seafood Purloo
Regardless of which vowels you use to spell the name of the dish that's known as per-loo (and sometimes appears as "pilau"), you always use rice to make it. Enslaved West Africans carried knowledge of this pilaf offshoot to South Carolina, and while the one-pot meal can be made with a variety of meats, seafood versions of the dish are especially prized in the Lowcountry.
Where to get: Sean Mendes, the chef-owner of Gillie's Seafood on the way to Folly Beach, invites customers to contribute photos of their grandmothers to a wall honoring his grandmother and restaurant namesake LaReese Gilliard, who originated his purloo-making methods.
---
Lowcountry Boil
According to the South Carolina Aquarium, which ought to employ experts on the subject, Lowcountry boil shed its "Frogmore Stew" moniker because the shrimp outshines the potatoes, corn, and sausage with which it shares a pot—and everyone knows the best shrimp comes from the Lowcountry. It doesn't hurt to boil them in decent beer and serve with cocktail sauce that's heavy on the horseradish.
Where to get: At Roxbury Mercantile, between Charleston and Edisto in Meggett, Beau Barnwell uses a handed-down recipe, and the sturdy shrimp are pulled up from local waters.
---
Country Captain
Although it sounds like a remnant of South Carolina's port city past, country captain in fact harkens back to the region's at-home entertaining history. In the mid-twentieth century, this velvety curried chicken dish was a fixture of society cookbooks and swanky dinner parties along the coast.
Where to get: Chef John Marshall of Beaufort's Old Bull Tavern doesn't harbor any illusions about country captain arriving fully formed from India. His rendition, as affable and classy as the restaurant where it's served, is billed as Lowcountry Captain.
---
Lemon Cream Pie
History and geography determined much of coastal South Carolina's prevailing menu, with settlement patterns and shellfish availability accounting for dishes that don't exist elsewhere. But on top of all that, it's hot here, which is why a refreshingly tart slice of chilled lemon cream pie is the ideal way to finish a meal.
Where to get: One of the first restaurants to open on the Grand Strand, North Myrtle Beach's Hoskins has more than eighty years of experience making pies that stand too tall to fit into Styrofoam to-go boxes.