Mashed potatoes are the unsung star of the Thanksgiving spread—a perfect comfort food that's rich and salty and creamy, and the perfect vessel for a ladle-full of gravy. And yet making them is often an afterthought (that pesky bird is so high maintenance!). To give this year's taters the love they deserve, follow these tips for a fluffy and flavorful result that'll be the talk of the table.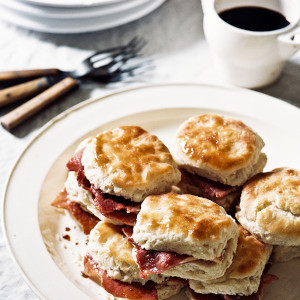 1. Pick the best spud for the job.
For golden, fluffy potatoes, opt for Yukon Golds. "I prefer a medium size because the smalls are a pain to peel, and large ones tend to have more discoloration and eyes that need to be removed," says Ian Boden, chef and owner of the Shack in Staunton, Virginia, and culinary partner at the Tabard Inn in Washington, D.C.
---
2. Get the dice right.
A nice, even dice is key so that they cook evenly, says Ashleigh Fleming, executive chef at Blue Jay Bistro in Littleton, North Carolina. "Otherwise the small bits will overcook and retain water or release more starch than you would like, while the large bits will leave unpleasant raw potato flavor." 
---
3. Simmer (or steam!) the taters.
Plunking potatoes into boiling water causes them to become waterlogged, so stick with a simmer. "Potatoes, after they are peeled and cut, need to go into a pot of generously salted cold water and slowly brought up to simmer," Boden says. "If you start with cold water, the potato cooks evenly. If you put them into hot water, the outside will overcook and get waterlogged before the center is cooked, leading to poor-textured mashed potatoes." They're done when they are just soft enough to be crushed by the tines of a fork.
After you've simmered your potatoes, consider this optional bonus step: Place them on a baking sheet in a 350-degree oven for ten minutes, Boden suggests. "This dries them out and removes moisture, allowing the potatoes to absorb more butter and cream in the long run and give better texture and flavor."
But not every chef simmers; some prefer to steam their potatoes whole, with the skins on (read: less chopping work). "By steaming the potatoes, they retain less water," says Rob McDaniel, executive chef at Helen in Birmingham, Alabama. Water repels fat, so less moisture means the potatoes can suck up more cream and butter (i.e., flavor). Once the potatoes are cooked through, remove the skins before mashing. The steaming time depends on the size of the potatoes, but for an average Yukon Gold, McDaniel says to plan on approximately forty-five minutes to an hour.
---
4. Mash them up.
Whether you opt for grandma's potato masher, a potato ricer, a stand mixer, or a food mill (all will get the job done!), get to mashing as soon as possible. "Mash them warm," Fleming says. "Waiting until they're cold makes them gluey."
---
5. Bring on the fat.
Start with cold butter, Boden says. "I'll add my cold butter first and start mashing with grandma's potato masher, then add salt and loads of black pepper." Cold butter that melts slowly will distribute the fat more evenly.
And salted butter is best, according to McDaniel. "Cut butter into small cubes and keep cold," he says. "This is one of the few times I would use salted butter, but it's important here for seasoning the potatoes. Once the desired amount of butter has been added, I season with white pepper and taste for salinity, butter, and pepper." If you're happy with the saltiness but want more butter, add unsalted butter at this point. But if you want more salt and butter flavor, go with more salted butter. And importantly, if you just need more salt, dissolve it in warm milk first so you don't have the crystals in your potatoes.
Once you have that buttery base, it's time to add cream, which should be warm (no one likes chilled mashed potatoes). "Add more cream than you think you should because after the potatoes sit for a second, the starch will set, and the potatoes will be firm again and not creamy," Boden says.
Another approach is to heat the cream and butter together and then pour into the potatoes as you mash. The advantage to this technique is that you can infuse a little bonus flavor. "I like to add a mixture of heavy cream, butter, and garlic, and then add that to my potatoes," says Jordan Arcuri, executive chef at Oak Steakhouse in Nashville, Tennessee. "It makes them creamy and smooth, and adding confit garlic to your cream-butter mixture makes it super tasty." (See recipe).
---
As for toppings:
Fleming: "Chives are a favorite ingredient of mine."
McDaniel: "I like to maybe add chili crunch to the top, maybe some chives. I would add both just before serving."
Arcuri: "I like to top them with gravy! Or even some more butter. Or make them loaded with chives, bacon, and cheese."
Boden: "I don't get into embellishments so much. A bit of chives or scallions are good, but other than that, focus on making great mashed potatoes, and don't worry so much about how to amp them up. They are classics, and there is a reason for that."