It's no surprise that Darian Hernandez, a past champ of Food Network's Chopped and veteran of New York's Per Se and Atlanta's Atlas, makes his own hot sauce (five varieties, in fact). But he's held "a sacred spot" for one brand in his own pantry for as long as he can remember. "We always had Crystal in our house," says the executive chef of Brother Fox, a restaurant in his native Pensacola, Florida. "It has that vinegar base. You can taste the spices—chiles and subtle notes of paprika—but it's not overbearingly hot. It's a very neutral sauce you can play around with."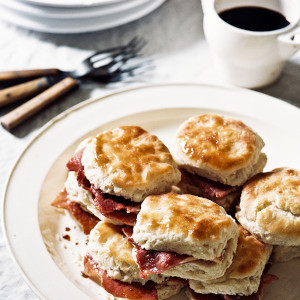 Besides a balanced flavor profile, Crystal boasts deep Southern roots. It was created in New Orleans in 1923 by Alvin Baumer, who stumbled on a recipe labeled "Crystal Pure" in a drawer at the sno-ball syrup business he'd purchased. After Hurricane Katrina wiped out its headquarters in 2005, the company—still owned and operated by the Baumer family—relocated to Reserve, Louisiana, where it processes more than 4.5 million gallons of Crystal hot sauce each year, distributed to more than thirty countries.
Hernandez is responsible for a significant share of those gallons. At home he mixes Crystal into buttermilk (using a ratio of one to two) and soaks chicken or fish in the concoction before frying. He cites a friend who swears by Crystal as an adhesive for dry rub on ribs. "It's a really good foundation in marinades. You can add herbs and spices to amp up the flavor."
Shrimp and grits? Bacon and eggs? All are enhanced by a dollop of Crystal, he says. At Brother Fox, Hernandez makes a compound butter with it, which he uses to top chargrilled oysters or flavor Lowcountry shrimp boil. He shares the recipe below.