Before he opened Foundation Social Eatery in suburban Atlanta in 2014, Mel Toledo worked for some of the finest chefs in the country, including Daniel Boulud of New York City's Daniel and Anne Quatrano at Atlanta's Bacchanalia. For all his classical training, a common Southern pantry ingredient would eventually steal his heart.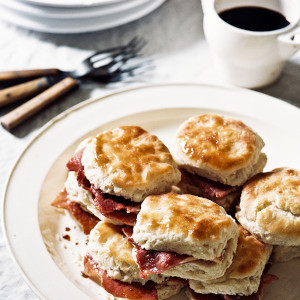 "The first thing I noticed was the Southern hospitality," says the California-born chef about moving to Atlanta in 2006. "Then came Duke's mayonnaise. It's a gift from the Southern gods." Actually, it's a gift from Eugenia Duke of Greenville, South Carolina, who slathered the stuff on sandwiches she sold to army canteens in 1917. After soldiers returned years later asking for the secret to her stellar sandwiches, she began bottling it in 1923, and the original recipe remains in use today.
Made with whole eggs instead of egg whites, Duke's Real Mayonnaise is richer than other brands with "a nice, subtle acidity," Toledo says. "It's a wonderful vehicle for other flavors." At Foundation Social, you'll find it in his shrimp BLT remoulade and banh mi spicy mayo. But his favorite place to use it is in coleslaw (recipe shared below). He adds cider vinegar, honey, and pickles to amp up the flavor. "There's not much pickling happening where I'm from," he says. "I found it really interesting to combine both of these new discoveries."
Of course, Toledo doesn't need a fancy recipe to enjoy Duke's; his pre-work pick-me-up is rolled-up turkey or ham with mayo. "I'm a total mayo slut," he admits.